eSewa Money Transfer announces partnership with WorldRemit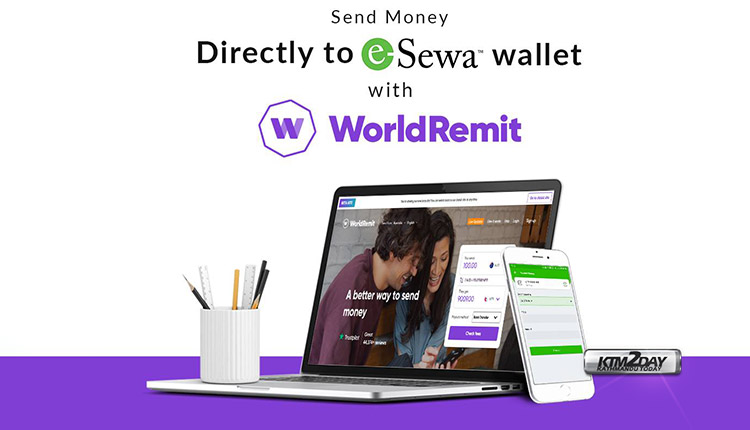 eSewa Money Transfer, which has been expanding its market in Nepal in recent days has tied up with the world's leading digital remittance company – World Remit. eSewa has signed an agreement with World Remit for International Remittance Payment through its channel in Nepal.
World Remit customers around the world will be now be able to send money to Nepal for their family, relatives and friends which will be processed in real time in eSewa Wallet.
WorldRemit is proud to collaborate with eSewa and their more than 4.2 million active account holders, to provide increased choice, convenience and affordability for Nepalese migrants living and working abroad.
World Remit is an international digital remittance trading organization. After the agreement, Rujan Ahmed, South Asia Country Director of World Remit, said, "Nepal is rapidly providing digital services to its people and we see Nepali people embracing change." World Remit is committed to continuing these developments and we are still proud to work with eSewa Money Transfer. "
Ajesh Koirala, Managing Director, eSewa Money Transfer, said, "We are excited to partner with World Remit, the world's leading provider of digital interstate payment services. This partnership will add another dimension to our low-fee remittance drive. '
Similarly, there will be no charge for sending money to the service account for the first time using Promocode as a new customer through World Remit. In order to promote digital remittance, World Remit and eSewa Money Transfer have made arrangements to send free remittances. First time customers can use Promo Code : WRNEPAL to send money to Nepal without any charges. The promo will be valid from 6th April to 30th June 2021.
WorldRemit is a leading digital cross-border payments business. The company disrupted an industry previously dominated by offline legacy players by taking international money transfers online—making them safer, faster, and lower-cost. The company currently sends from 50 to 150 countries, operate in 6,500 money transfer corridors worldwide, and employ over 1,100 people globally.
On the sending side, WorldRemit is 100% digital (cashless), increasing convenience and enhancing security. For those receiving money, the company offers a wide range of options including bank deposit, cash collection, mobile airtime top-up, and mobile money.