Nepal's position in World Passport Index revealed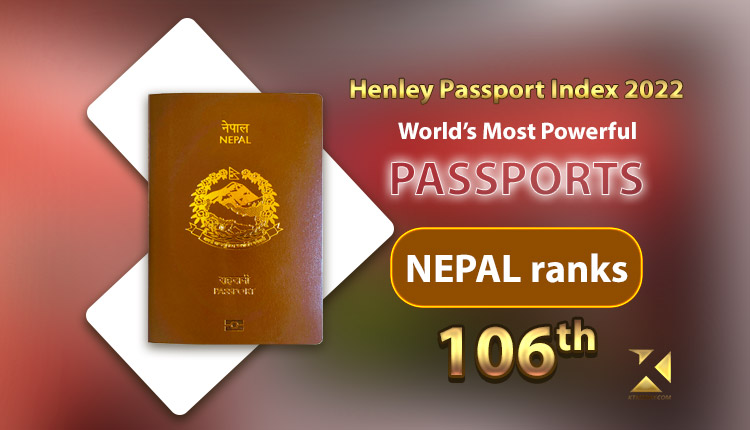 According to the Henley's Passport Index for 2022, Nepal's passport ranked as one of the weakest travel documents in the world allowing access to only 38 destinations worldwide.
Nepali passport is ranked 106th in the survey based on the country that gets the most visas on arrival. Last year, Nepal was ranked 109th. Nepalis get visa on arrival in 38 countries.
The Henley Passport Index is a ranking of the world's 112 passports based on the number of countries their holders can visit without a visa.
The International Air Transport Association, which manages the world's largest database of travel information, and the Henley & Partners Research Department both contributed data for the rankings, which were then further refined.
In a survey of passports around the world conducted by the London-based Henley Company, Japan's passport was found to be powerful. Japanese citizens can already visit 193 countries around the world without applying for a visa.
The passports of Singapore and South Korea, the second most powerful, can travel to 192 countries and Germany, which is in third place, can travel to 190 countries through an on-arrival visa.
Italy, Finland, and Luxembourg are fourth with 189 countries, and Denmark, Austria, the Netherlands, and Sweden have the fifth most powerful passports with 188 countries.
Among South Asian countries, India ranks 87th, while Bhutan ranks 93rd, Sri Lanka 103rd and Bangladesh 104th. Pakistan is behind Nepal at the 109th position.
Among the countries surveyed, Afghanistan ranks 112th at the bottom. Above Afghanistan are Iraq and Syria.
The most powerful passport in the world – Top 10
1. Japan (Visa on arrival in 193 countries)
2. Singapore, South Korea (Visa on arrival in 192 countries)
3. Germany, Spain (on arrival visa in 190 countries)
4. Finland, Italy, Luxembourg (on arrival visa in 189 countries)
5. Austria, Denmark, Netherlands, Sweden (Visa on arrival in 188 countries)
6. France, Ireland, Portugal, UK (on arrival visa in 187 countries)
7. Belgium, New Zealand, Norway, Switzerland, USA (Visa on arrival in 186 countries)
8. Australia, Canada, Czech Republic, Greece, Malta (Visa on arrival in 185 countries)
9.Hungary (Visa on arrival in 183 countries)
10.Lithuania, Poland, Slovakia (Visa on arrival in 182 countries)
World's weakest passport – Bottom 10
103. Congo, Lebanon, Sri Lanka, Sudan (on arrival visa in 42 countries)
104. Bangladesh, Kosovo, Libya (on arrival visa in 41 countries)
105. North Korea (Visa on arrival in 40 countries)
106. Nepal, Palestine region (Visa on arrival in 38 countries)
107. Somalia (Visa on arrival in 35 countries)
108. Yemen (Visa on arrival in 34 countries )
109.Pakistan (Visa on arrival in 32 countries)
110.Syria (Visa on arrival in 30 countries)
111.Iraq (Visa on arrival in 29 countries)
112.Afghanistan (Visa on arrival in 27 countries)