Carpet export earnings jump to $70m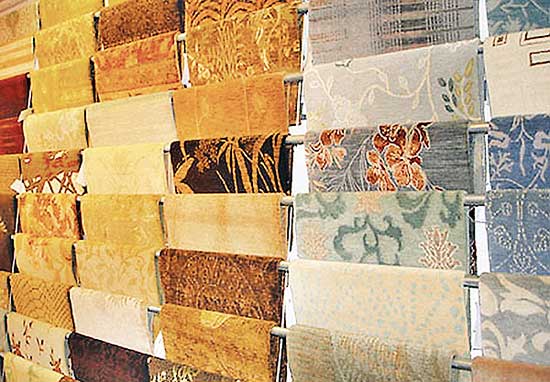 Nepal's carpet export revenue swelled despite an 11 percent drop in volume in the last fiscal year. The country earned US$ 70.65 million in 2011-12, up from US$ 60.67 million in the previous year. According to the Trade Export Promotion Centre (TEPC), Nepal exported 621,771 sq m of carpets in the last fiscal, down from 697,121 sq m in 2010-11.
The US is the largest buyer of Nepali carpets followed by Germany, the UK, Canada and Belgium. According to TEPC statistics, Nepal exported 228,713.77 sq m of carpets worth US$ 32.25 million to the US.
Government apathy, lack of effective implementation of the refinancing facility, ongoing financial problems in Europe and increasing cost of production have been blamed for the decline in exports.
President of the Nepal Carpet Exporters' Association (NCEA) Kavindra Nath Thakur said the government's apathy was among the factors behind falling exports. "Although the government had announced providing loans to the sector as a refinancing facility, many commercial banks are still reluctant to implement the provision," he said.
According to him, many exporters have not been able to benefit from the cash incentives announced by the government due to bureaucratic hassles. TEPC figures show that the US has surpassed Germany in both quantity and value as the largest importer of Nepali carpets. The US imported 228,713 sq m of carpets during the last fiscal year, accounting for 36.78 percent of the total exports. US imports doubled last year to US$ 32.25.
Traders said that a growing attraction for high priced carpets in the US was the reason behind increasing exports. "Carpets in 100 knot and 150 knot fineness and expensive carpets made of silk and nettle fibres are finding a larger market in the US," said Thakur.
Meanwhile, the Euro zone crisis and increasing cost of production have been cited as the reasons for declining exports to the European market. According to traders, the price of wool imported from New Zealand has increased to US$ 6.20 per kg from US$ 2.10 per kg. Similarly, higher wages for carpet workers have also added to the cost.
Thakur said that German importers who used to buy medium and low-priced carpets from Nepali exporters had started switching to Indian exporters.
GK Joshi, director of Joshi Carpet Industry, said the ongoing economic problem in many European countries was the main reason behind falling exports. "Many German traders who are the main suppliers of Nepali carpet in the European market are unable to sell their products," he said.
Carpet Export
FY Quantity Value
2011-12 621,771 sq m $70.65 million
2010-11 697,121 sq m $60.67 million
Top Five Buyers
US 228713.77 sq m
Germany 226377.16 sq m
UK 33657.04 sq m
Canada 21373.26 sq m
Belgium 14808.66 sq m