UFO launches own brand of apparels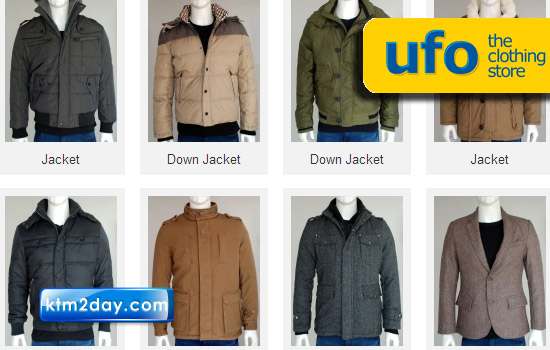 Retail chain UFO has rolled out its own line of apparels for a change. The popular fashion store, known for imported apparels, footwear and accessories, has launched the UFO brand in a bid to increase its market share.
UFO products have become available at its stores across the country, but the company is yet to make an official announcement of the launch. The products will be designed in Nepal and manufactured in China.
Initiated in 1995 with 200 sq ft of space at Ranjana Galli, UFO has turned into one of the most successful clothing enterprises with 15 outlets across the country. Apart from the Kathmandu valley, UFO maintains outlets in Birgunj, Butwal, Chitwan and Pokhara. It provides direct and indirect employment to around 300 people.
"We have been in the market for a long time now. Launching our own brand is an initiative to up the ante of UFO in the domestic market," said brand manager Sachin Shrestha.
The products currently available under the UFO label are shirts, cotton pants, denims, sweaters and jackets for both men and women. UFO denims are priced in the range of Rs 1,600 to Rs 2,000, shirts Rs 1,100 to Rs 1,600 and jackets Rs 2,500 to Rs 3,000.
According to Shrestha, apparels from UFO have been in the market for the past two months, and they have been received very well by domestic customers. "People were overjoyed to purchase UFO apparels. They accepted the brand without any hesitation, and were found to be really proud to own UFO products," said Shrestha.
He added that the consistent quality in products and service that UFO has been delivering since its inception has earned it a huge fan following, and this has played a major role in the acceptance of its own brand.
Another factor which has played a crucial role is price, Shrestha said, adding that that the price was nominal for quality conscious customers. Elated with the success, UFO is planning to expand its product line-up and add more designs in the upcoming consignment. "So far, we have introduced a limited range of products. Our summer line-ups are soon being launched, and they will be available in large quantities," Shrestha said.
The Kathmandu Post, in today's edition of Bazaar, features a selected range of UFO apparels you may want to check out at the UFO store at Maharajgunj, Kathmandu.