Popular Nepali Actor Shree Krishna Shrestha no more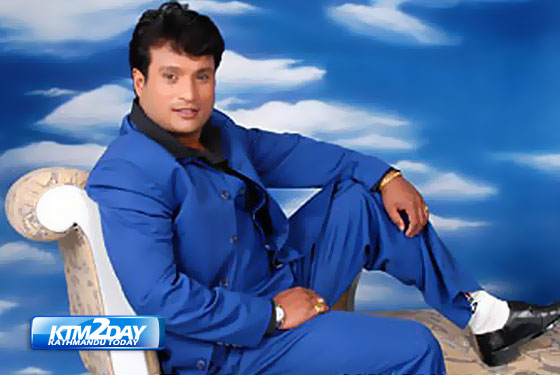 Shrestha's body to arrive at TIA at 2.55 pm
Funeral cortege to begin from TIA 
Shrestha's body will be kept at Nepal Academy Hall from 3-5 pm
Funeral procession for deceased actor to begin from 5 pm
Popular Nepali actor Shree Krishna Shrestha, who starred in successful movies such as Gorkhali, Afno Manchhe, and Kaha Bhetiyela, passed away while undergoing treatment at New Delhi on Sunday morning Aug 10. He was 47.
Shrestha, who had married actress Sweta Khadka just a month ago, was undergoing treatment at Sir Ganga Ram Hospital for pneumonia. He was declared dead at around 5 in the morning. Shrestha had long been suffering from diabetes and intestine related disorder, for which he had also undergone a surgery.
Shrestha made his debut in the Nepali film industry with the movie 'Bhumari' 25 years ago and starred in many successful movies. Popular for his dance moves and acting skills, he was also the assistant dance director at the National Academy.
Minister for Information and Communications, and government spokesperson, Minendra Rijal paid a heartfelt condolence to the actor, describing his demise as an irreparable loss to the Nepali film sector.
Distinguished film actor and lyricist Neer Shah, who directed Shrestha in Rajamati (which was based on a 200-year old ballad widely popular in Newar community), remembered him as a "very friendly and dedicated actor".
"Shree was a nice and jolly young fellow. Not only was he a marvellous actor, he also developed into a successful movie producer later in his career. His untimely death is a big tragedy to the Nepali film industry. We are in a state of shock," Shah added. Renowned music composer Sambhujeet Baskota also echoed the same feelings. Describing Shrestha's death as a huge tragedy, Baskota said that Nepal has lost a very talented and versatile actor who was also a loved public figure. "He was a real artist, there was no doubt about that. But above all he was a good human being who had a great passion for movies," said Baskota, who had composed music in most of Shrestha's movies and also sung some of them.
According to the actor's relatives, his body will be brought from New Delhi to Kathmandu at 2:30 pm on Monday.
The latest film starred by Shrestha and his wife is titled 'Kohinoor' and is currently being screened across the country since last Friday.
In his special audio message to Nepali audience during the release of the movie, the actor said,
"I wanted to be there with you all, my dear audience, during the release of the movie. But that is currently not possible. In life there are always ups and downs… sometimes it is joyful and suffering at other times. Perhaps, within a few days after the release I will be there to watch the film together with you all. Thankyou…"