UAE opens Embassy in Kathmandu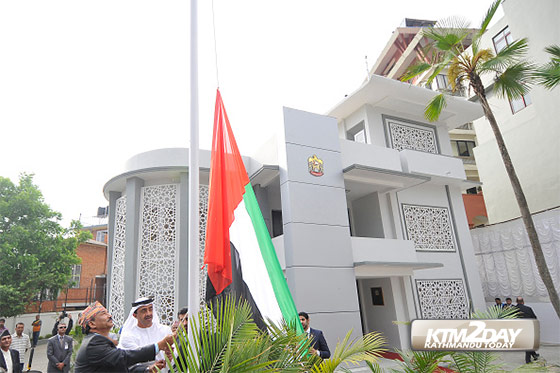 Kathmandu, May 10
The United Arab Emirates inaugurated its residential embassy amidst a function in Kathmandu today.
Earlier, its embassy based in New Delhi had been concurrently looking after Nepal.
Foreign Minister of UAE, Sheikh Abdullah bin Zayed Al Nahyan, inaugurated the embassy in Lazimpat, Kathmandu this afternoon.
Speaking on the occasion, Nahyan said bilateral ties between Nepal and UAE had reached a new height with the establishment of the Gulf nation's residential mission in Kathmandu.
Deputy Prime Minister Kamal Thapa, who was also present on the occasion, said the establishment of the embassy would facilitate hundreds of thousands Nepali workers seeking employment in the UAE.
Nepal had set up its embassy in Abu Dhabi in 2004. The diplomatic relations between the two countries was established on January 22, 1977.
Saeed Hamdan al Naqbi has been designated as UAE's first residential ambassador to Nepal.
He will soon present his Letter of Credence to President Bidhya Devi Bhandari, according to Deepak Adhikari, joint secretary at the foreign ministry.
UAE is one of top job destinations of Nepali migrant workers. It is estimated that about half a million Nepalis are working there.
Meanwhile, Nahyan also called on President Bidhya Devi Bhandari and Prime Minister KP Sharma Oli, separately.
According to the prime minister's foreign affairs expert Gopal Khanal, the UAE minister urged PM Oli to conclude the proposed Bilateral Investment Promotion and Protection Agreement and Double Taxation Avoidance Agreement between the two countries so that the Gulf country can make more investments in Nepal.
PM Oli urged his UAE counterpart, through Nahyan, for clemency to Amar Bahadur Thapa, a Nepali worker, who faces death penalty in UAE and is in jail since 2003 for his involvement in a murder.
Former prime ministers Baburam Bhattarai and Sushil Koirala had also requested the UAE government to grant clemency to Thapa.
Khanal told The Himalayan Times that the UAE minister stated that as per the law of his country, only the deceased's family can decide whether or not to grant clemency to Thapa.
He, however, assured that he would do everything possible to ensure that the Nepali worker gets clemency.
Oli also urged Nahyan to encourage UAE's investors to invest in hydropower projects in Nepal. Earlier, he had held a bilateral meeting with DPM Thapa over lunch.
Minister Nahyan had arrived here on a day-long visit via a special flight and returned home today.