Silver Heritage Group opens five-star resort Tiger Palace in Nepal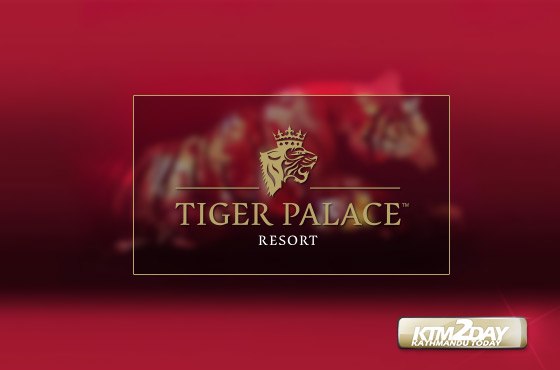 First five-star resort built with foreign investment has come into operation in Kotihawa of Tilottama Municipality-17, Rupandehi.
The resort built by Silver Heritage Group (SHG), a multinational company from Australia, has been branded as 'Tiger Palace Resort'. It is also the first five-star resort outside the capital.
The Ministry of Culture, Tourism and Civil Aviation (MoCTCA) on Wednesday certified the resort as a 'five-star resort' on Wednesday. Upon completion, the resort will have 400 deluxe rooms. Hundreds of rooms have already been brought into operation. The resort sprawled over 15 bigha currently employs 300 people most of who are local youths.
"Nepal's tourism sector, which was devastated by the earthquakes of 2015, is slowly standing on its feet. Our resort aims to increase contribution of tourism sector to the national economy," Rajendra Bajgain, president of Silver Heritage Investment Pvt Ltd – the company set up by SHG in Nepal, told Republica. "We will employ a total of 1,500 people when our resort starts full-fledged operation. Most of them will be locals."
Room price in the resort has been set at US$ 200. The price is exclusive of 10 percent service charge and 13 percent VAT.
The resort has decided to donate two percent of its total income for protection of tigers. "Two percent of our annual turnover will be used for tiger preservation because our name comes from it," said Bajgain.
Apart from 400 rooms, the resort is building two villas. According to Bajgain, twenty rooms in the resort shall have attached swimming pools. It will also have other facilities like spa, tennis court, children's park, and water fun park on its premises.
Silver Heritage Group operates 33 resorts worldwide. It has been running The Millionaire's Club and Casino on the premises of Hotel Shangri-La, Lazimpat. Initially, the group had announced plan to invest Rs 10 billion in the casino, Tiger Palace Resort, five-star hotels in different places and hydropower sector, among others. It aims to scale up its investment to Rs 30 billion.