Shopping Malls in KTM starts offering festive schemes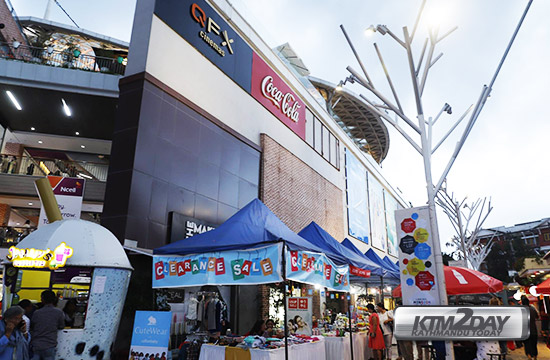 In an effort to draw consumers into their stores, shopping malls in the Kathmandu valley are setting the mood for the festive season by offering many festive offers and special attractions.
The Dashain and Tihar festivals are the prime time for shopping malls to influence consumer spending. Malls like Civil Mall, Rising Mall and Labim Mall, among others, have started announcing different offers and schemes targeting the festival.
Civil Mall at Sundhara has already started their annual Dashain Tihar Mahotsav, from September 28. For their Mahotsav, the shopping mall has been providing customers, who purchase goods worth Rs 1,000 and above, with a coupon. And on October 13, the company will be organising a lucky draw, where winners will be awarded gift from PC Jewellers, Yamaha Ray Z, and others, said Pramod Maharjan, marketing manager of Civil Mall.
Similarly, in the spirit of the festivities, the mall has already conducted Art Mela and Bal Sansar Talent Hunt, he said. Civil Mall has been offering branded clothing items on its first floor, retail shops on the second, third and fourth floor, while the fifth floor includes clothing items for kids, a salon and an indoors fun park. The sixth floor of the mall has a food court and the seventh floor includes QFX cinema halls.
According to Maharjan, more than 5,000 customers visit the mall during the festivals and the mall expects more people this festive season. Special light decoration will be an attraction for the festival season, he said, adding, the mall also has a ice skating rink, which is the first-of-its-kind rink in Nepal. "We offer fixed and fair prices on all our goods," he said.
Rising Mall, located at Durbarmarg, has also been offering coupons on the purchase of goods worth Rs1,000 and above. The mall is scheduled to hold a lucky draw on November 16, and the lucky winners will get a Dubai Tour as first prize and can win different home appliances through the lucky draw. The mall has branded clothing stores, Korean clothing stores and cosmetic stores, which sell American cosmetics.
According to Pradeep Adhikari, operation manager at Rising Mall, the mall has one exclusive shop of dry fruits named as Morsel, which has been offering a range of dry fruits imported from different countries. The dry fruit shop is a first of its kind in Nepal, he said.
Similarly, different events such as face painting will be held from October 10, he said. "We will not be charging anything at the gaming zone for kids during the festivals," he said. The mall will be adding two new clothing brands soon, he said. The mall also has a Chinese and Korean food restaurant and two luxury cinema halls, he said.
Labim Mall has also come up with Dashain-Tihar celebrations, which are going to be held from October 10 to November 13. The mall is also offering a coupon on the purchase of goods from the mall and through a lucky draw winners can win a Yamaha bike and scooter and Samsung Galaxy mobile phones.
According to Samrat Nath Yogi, marketing manager at Labim Mall, more than 10,000 visitors visit the mall daily during festival times. The ground floor of the mall includes shops of branded clothing items, the first floor features clothing stores for women and kids, the second floor hosts restaurants and the third floor includes QFX cinema halls and restaurants, while the fourth floor includes a gym centre.