Cricket World Cup fever boosts TV sets sales this monsoon season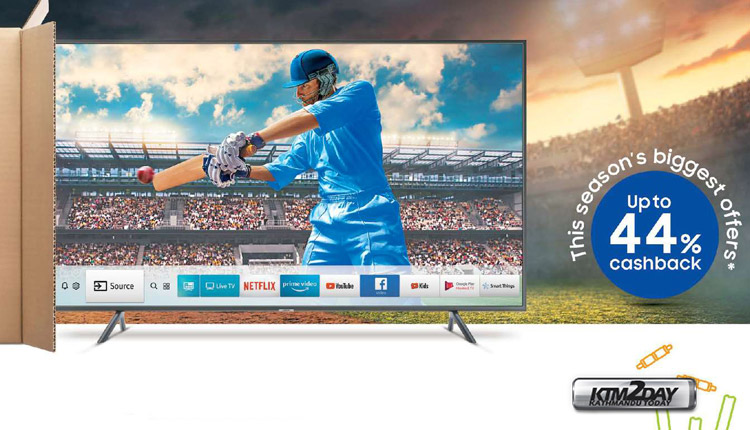 As the 2019 ICC Cricket World Cup gets underway in England and Wales, the mega event has brought joy to an unlikely group: TV dealers in Kathmandu who say customers are flocking to buy new television sets and sending cash registers ringing.
No authentic data is available, but executives at two major TV dealerships in the capital said that sales of LED and Smart TVs were growing at the rate of 25-30 percent annually. Nepal's TV market is estimated to be worth Rs7 billion annually.
"Rapid changes in TV technology delivering the best visual and audio experiences have encouraged customers to spend on television sets during festivals and sports events," said Jasmine Siddhi, marketing team head at Nepa Hima Trade Link which is an authorised distributor for Sony TV. Television sales jump more than 50 percent during times of major sports events and festivals, she said.
The country has a good number of football and cricket fans which translates into massive viewership during major championships. With regular updates in technology, TV prices have also been gradually falling, making them affordable to middle income people. Televisions sales in the country are on the rise due to an expanding tech-savvy population and increasing disposable income. Companies are capitalising on the surge in demand by launching models with the latest technologies such as artificial intelligence, 3D and 4K displays.
According to a dealer, customers look for particular features such as Dolby vision and sound, premium design and more before buying a TV. And TVs in the premium segment are especially in demand due to their advanced features such as energy-saving system and auto adjusting brightness capability.
When it comes to sports, customers prefer premium segment TVs with a large display and best picture quality. Though sales may not reach the same level as during the the FIFA World Cup, retailers said they expect business to boom during the ICC World Cup.
CG Electronics, the authorised distributor for LG TVs in Nepal, is expecting a 20-30 percent sales growth during the ICC World Cup 2019. "We are observing a gradual growth in sales due to the World Cup," said Sanjay Rajbhandari, marketing communications and brand management head at CG Electronics.
LG, which holds a 25 percent share of the domestic TV market, posted a 200 percent increase in sales of LED TVs last year during the FIFA World Cup, said Madhu Sudhan Kamat, product engineer at LG. With the introduction of digital channels and internet protocol TV, demand for smart TVs are on the rise, the company said. "LG's premium segment TV prices start at Rs100,000."
Nepa Hima Trade Link said it was observing a 5 percent growth in daily sales due to the ICC World Cup 2019. "As the number of cricket enthusiasts has also increased in recent years, we are expecting a 20-25 percent sales growth during the World Cup," said Siddhi.
According to her, 4K TV is the best selling Sony model and affordable prices are the major reason behind the growth in sales. The Sony Bravia holds a 40 percent share in the domestic TV market, she said, adding that updated TV technology and picture quality were the major reasons behind their popularity. The company is offering a 30 percent discount on Sony TVs.
Him Electronics, the authorised distributor for Samsung electronic goods in Nepal, is expecting double-digit growth during the ICC World Cup 2019. "Sales will peak within a week and we are targeting a turnover similar to last year's FIFA World Cup," said Bishnu Thapa, manager at Him Electronics.
Samsung holds an estimated 50 percent share in the domestic TV market. Samsung TV prices range from Rs24,490 to Rs789,990. The company is also offering a discount of up to 42 percent targeting the ongoing World Cup.