Antutu Top 10 Best Performing Smartphones for June 2020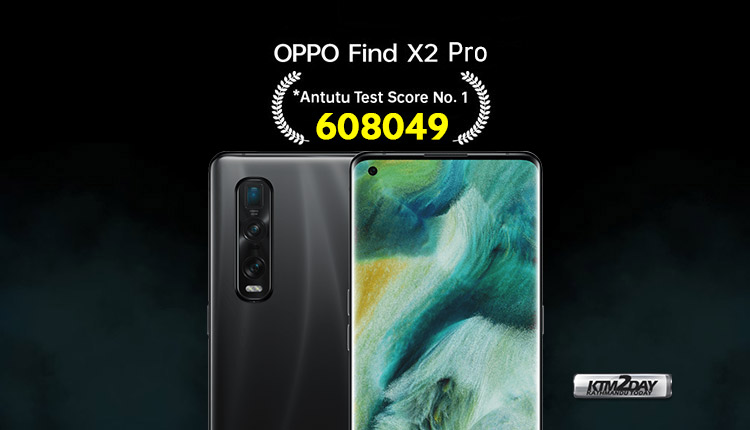 As usual, at the end of every month AnTuTu benchmark platform publishes the ranking of the most powerful Android smartphones available on the market. This time the benchmark takes into account data collected between the 1st and the 30th of June, giving us an excellent idea of ​​which smartphones to consider performance wise.
However, it is important to emphasize that these results may not reflect the performance of smartphones in their daily use, and we advise you to only use it as a reference and a form of comparison for choosing your next smartphone.
This month's list presents some surprising information, such as the presence of only one Xiaomi smartphone in the TOP5 (Xiaomi Mi 10 Pro in second place). Another surprise is Oppo's total dominance in June, with 4 devices at the top of the table.
The Oppo Find X2 Pro is the most prominent smartphone during the month of June, presenting itself as the most powerful Android smartphone according to AnTuTu.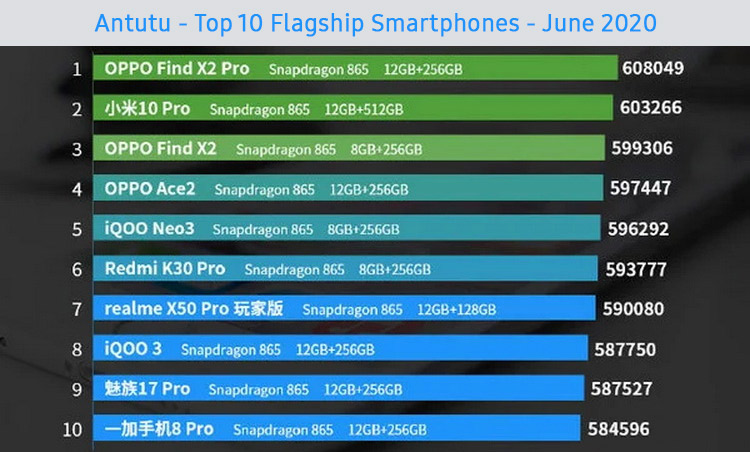 Qualcomm takes the crown as usual
In addition to these classifications help us to understand which are the most powerful smartphones of today, they also help to give a better idea of ​​which processors are of greater importance. In June, it is impossible to have any doubts, with Qualcomm dominating the table completely.
All 10 smartphones integrated in the TOP10 most powerful smartphones, are equipped with the Qualcomm Snapdragon 865 processor, confirming that this is the best processor available today for Android devices.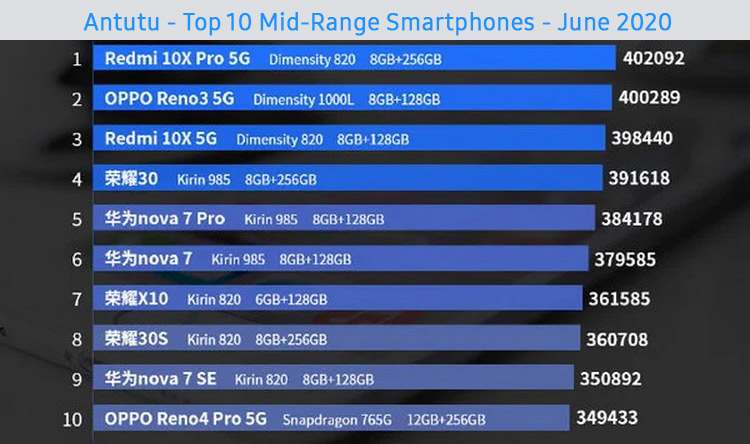 Xiaomi continues to dominate the ranking of mid-range smartphones
Regarding the mid-range segment, Xiaomi continues to achieve maximum prominence thanks to the Redmi 10X Pro 5G. It is also amazing to see that in this segment it is Huawei / Honor that has the greatest presence, with a total of 6 smartphones in the TOP10.
There are also some surprises with regard to processors. If in the high-end segment Qualcomm dominates the competition, then opposite to this MediaTek is found to be dominating the mid-range segment with its new Dimensity processors, followed by Kirin processors manufactured by Huawei.
Qualcomm has only one smartphone on this list (Oppo Reno4 Pro 5G) that occupies the last position, being equipped with the Snapdragon 765G.