IMS Group invests in Nepali e-commerce platform – SmartDoko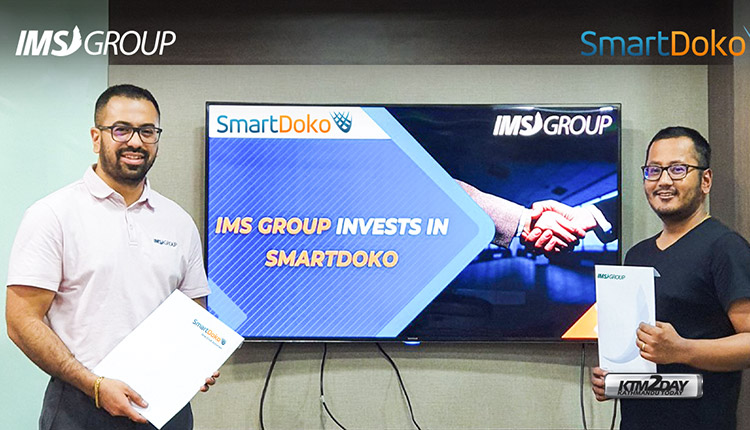 IMS Group, a conglomerate company based in Nepal, has announced that it has entered into a definitive agreement to acquire substantial stake of SmartDoko for an undisclosed amount.
SmartDoko is one of Nepal's largest e-commerce companies. The company has been serving Nepali market for over four years, providing ease and convenience to order only genuine goods from authorized companies across 18 different categories and to have it delivered to their customers' doorstep within hours. The ecommerce company has been one of the most preferred online sites due to its various unique selling propositions such as Free Delivery inside Ringroad, Reward Points System, SmartDoko Exclusive Products, Easy return Policy, Discount Coupons, Multiple Payment Option, etc.
"As the new era is shifting towards being digital where the whole world is just a click away with increasing rate of smartphone and online penetration witnessing huge growth in e-commerce worldwide and nationwide, IMS Group decided to invest in SmartDoko. Additionally, when the whole world is being hit by the pandemic, people have been choosing and aggressively practicing online shopping and we see ecommerce skyrocketing in the near future. Hence, the company decided to acquire SmartDoko to address the current needs and to keep up with the digital world and provide one click solution."- Dikesh Malhotra, President & CEO, IMS Group.
He adds – "Post the acquisition of SmartDoko, our primary objective will be to significantly enhance the customer experience of SmartDoko. We are very much aware of their feedback – both positive and negative ones and our major effort will be directed towards addressing their queries. In addition, we will be completely revamping both the existing website and mobile application in order to provide the best user friendly interface and user experience to SmartDoko users. Furthermore, as our initial step to rebrand SmartDoko, we would like to take this opportunity to introduce the new logo of SmartDoko. We are confident that our customers – both existing and new will witness best shopping experience with us."
IMS Group is a local conglomerate which has over 20 different companies under its banner .IMS is the national distributor of Samsung smartphones in Nepal. It is the first company in Nepal to officially import mobile phones in 1998.