KFC opens new outlet in Bharatpur Chitwan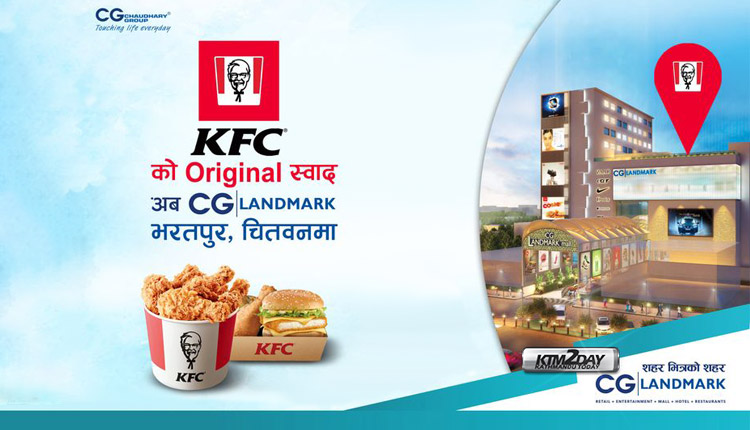 World-renowned American fast food chain KFC has opened yet another new outlet outside Kathmandu. KFC has opened its new outlet at CG Landmark, a state-of-the-art business complex in Chitwan.
The outlet was inaugurated by CG Landmark Chairman Rajendra Aryal and Manager Ujjwal KC on Wednesday. KFC operation in Nepal is managed by Devyani International Nepal Pvt.
CG Landmark, in a press statement stated that KFC has connected the people of Chitwan with another international brand which will add new height to the modern lifestyle of Chitwan.
Speaking on the occasion, Chairman Aryal said that the initiative of CG Landmark, which has been providing various international brands to Chitwan customers, the operation of KFC would also play an important role in the promotion of Chitwan poultry sector.
He also expressed confidence that KFC would forge new ties by spreading the taste of international taste in its own village and town.
KFC outlet has come into operation on the ground floor of the  CG Landmark mall.
The restaurant has set four different international safety standards to avoid covid. All food prepared in the restaurant will be in accordance with international standards and the food will be quality and safe in all respects.
The restaurant covers an area of ​​1,515 square feet. It can serve 40 people at a time. The restaurant has started home delivery service through 'Take Away' and 'Mero Shopping' online services. Fifteen people are directly employed at this restaurant.
With the addition of new outlet, KFC Nepal has been running 8 Stores in total located in 3 cities – Kathmandu, Pokhara and Bharatpur.
The fast food giant has stores in Durbar Marg, Bouddha, Thapathali, LABIM Mall Pulchowk, BBSM Maharajgunj, BBSM Thimi Bhaktapur, Central Lakeside Pokhara and CG Landmark Mall Bharatpur.