Nepal Telecom starts VoLTE service. What is it and how to activate?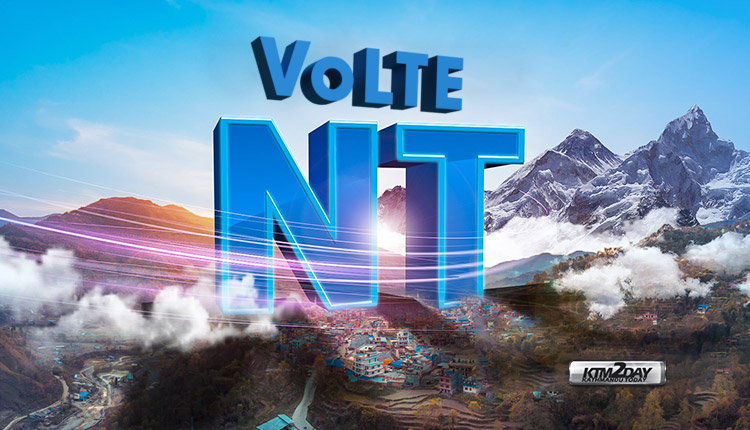 On the occasion of World Telecommunication and Information Society Day, Nepal Telecom is rolling out VoLTE service to its customers. VoLTE in short stands for Voice over LTE which provides superior voice quality and allows you to browse the Internet and use data-driven apps while on a call.
The VoLTE service will be available from Monday, 17 May 2021 and will be rolled out to Nepal Telecom's customers in phases. First of all the service will be available to a handful of smartphone models that supports VoLTE service.
In the first phase, the service will be available to most of the latest Samsung smartphones that has been launched since last year.  This includes Samsung M series, A series and the flagship S series phones. Some Redmi and Nokia are also supported. Later on the service will be available to majority of handsets models.
What is VoLTE?
VoLTE(Voice over LTE) offers the possibility to voice call via the LTE/4G mobile network rather than the 2G or 3G connections which are usually used.
The big advantage of VoLTE is that call quality is superior to 3G or 2G connections, as far more data can be transferred over 4G than 2G or 3G. Up to three times as much data as 3G and up to six times as much as 2G to be precise, making it easier to make out not only what the person on the other end of the line is saying, but also their tone of voice.
Essentially it's an HD voice call and it's a much richer experience overall.
The benefits of VoLTE are ;
Better voice quality
Faster call setup
The phone remains in the LTE/4G network during voice calls
You can use LTE/4G data services, such as web surfing and tethering, and simultaneously make and receive calls.
How to activate VoLTE service on your smartphone ?
To activate VoLTE service customers of Nepal Telecom should have smartphone that supports this feature. Nepal Telecom has stated that apart from having a VoLTE enabled device one needs to have a recently upgraded firmware to use this service.
Depending on the model of the smartphone one needs to first enable this service by going to Settings > Mobile Networks > Enable VoLTE.
Nepal Telecom has stated that the VoLTE service will available in all areas currently having 4G Network coverage in Nepal.
To activate VoLTE in SIM : Dial *444#
To enable VoLTE on the mobile device –  Settings > Network & Internet > Mobile network > Preferred network type > LTE or 4G (preferred)/3G/GSM.
After that to check if VoLTE has been activated or not, one needs to check if HD/VoLTE icon has appeared on the top bar of the screen.
Alternatively, one can also dial *111# to verify if VoLTE has been activated or not.
Once VoLTE is enabled, NT customers get 100 minutes FREE VoLTE voice calls valid for 28 days.
What are the charges of using VoLTE service ?
There is no additional cost for VoLTE service. VoLTE is one more way in which NT is building a better  network for its' customers.
VoLTE calls will not consume any data. It will be charged as per your normal calls.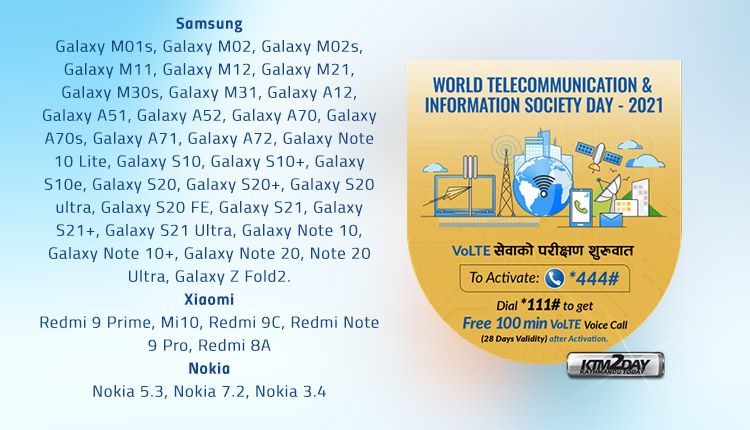 Supported Handset models 
Samsung

Galaxy M01s, Galaxy M02, Galaxy M02s, Galaxy M11, Galaxy M12, Galaxy M21, Galaxy M30s, Galaxy M31, Galaxy A12, Galaxy A51, Galaxy A52, Galaxy A70, Galaxy A70s, Galaxy A71, Galaxy A72, Galaxy Note 10 Lite, Galaxy S10, Galaxy S10+, Galaxy S10e, Galaxy S20, Galaxy S20+, Galaxy S20 ultra, Galaxy S20 FE, Galaxy S21, Galaxy S21+, Galaxy S21 Ultra, Galaxy Note 10, Galaxy Note 10+, Galaxy Note 20, Note 20 Ultra, Galaxy Z Fold2.

Xiaomi

Redmi 9 Prime, Mi10, Redmi 9C, Redmi Note 9 Pro, Redmi 8A

Nokia

Nokia 5.3, Nokia 7.2, Nokia 3.4