Apple and Xiaomi top the list of best-selling phones in the first half of 2020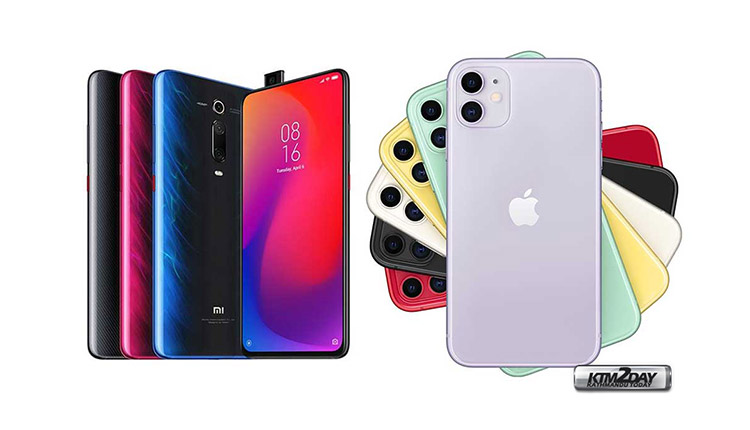 Samsung almost disappeared from the ranking and has only the Galaxy A51 on the list
A new report by research and consulting firm Omdia showed that Samsung almost disappeared from the list of best-selling smartphones in the first half of 2020. The ranking lists the top 10 models sold on the market in the first half of this year, with the iPhone 11 in first place from Apple . Compared to a survey from the same period in 2019, the South Korean manufacturer had five phones on the list.
Basically, Samsung led half of the world's best-selling smartphone rankings, but its market share has been reduced significantly now with Apple and Xiaomi leading the list of devices. The only Samsung device to appear on the list is the intermediate model Galaxy A51 .
The results in 2020 are very different. Samsung still ranks second with the Galaxy A51, which reached 11.4 million units sold by the middle of the year. However, the rest of the table is fully occupied by four mobile from  Redmi of Xiaomi and five models of Apple, completing the ranking with their smartphones iPhone 11 Pro / Max , iPhone XR and iPhone SE .
According to the 9to5Google website, the addition of the iPhone SE (2020) to the Apple portfolio in April this year helped the company position four models on the global list of the top 10 best-selling smartphones. With more affordable prices, the iPhone SE sold 8.7 million units in the first half of the year, which guaranteed the 5th place in the list of devices.
Even though Samsung won second place with the Galaxy A51, no flagship device from the brand reached the top 10. These results show that the company has failed to conquer the market as expected, since its competitor Apple managed to place its state-of-the-art models giving consumers more choice in every price segment.
We still don't know what the results of the second half of 2020 will be. Samsung has recently launched new "flagship" smartphones from it's Note series, so it is possible that some of these devices will be in the next ranking.