Upper Tamakoshi inaugurated, starts generating 76 MW of electricity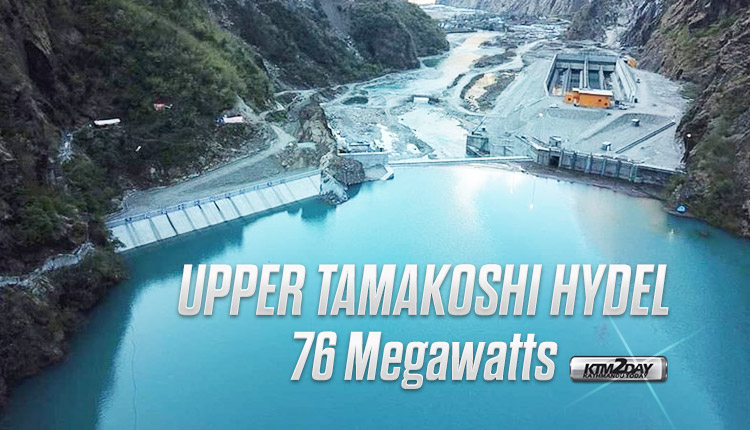 The Upper Tamakoshi Hydropower Project of national pride has been inaugurated today, breaking the bad trend of laying the foundation stone of big ambitious projects in the country but not completing them on time.
Prime Minister KP Sharma Oli has inaugurated the project, which was constructed at Bigu-1 Lama Bagar in Dolakha 10 years after the foundation stone was laid by the then Prime Minister Jhala Nath Khanal.
Prime Minister KP Sharma Oli on Monday inaugurated the much awaited Tamakoshi Hydropower Project. The Prime Minister inaugurated the project on the same day that the trial period of the project started.
The electricity generated from here is connected to the national transmission line. The 456-megawatt project has started generating 76 megawatts of electricity since Monday.
Test production has started by operating one of the six turbines of 76/76 MW capacity in the project. NEA is confident that the project will prove to be a cornerstone for the development of Nepal's hydropower sector once it starts operating at full capacity.
The trial period of the first unit of the Tamakoshi project will end only after 15 days. "We have to keep running the rest of the turbines," said Vigyan Shrestha, chief executive officer (CEO) of the Upper Tamakoshi Hydropower Company.
He said that there is a plan to test other units and connect them to the national grid.
According to Hitendra Dev Shakya, executive director of Nepal Electricity Authority, the target is to generate electricity from the remaining sub-units by next August.
Upper Tamakoshi had to face many obstacles to complete the construction. India's undeclared blockade during the 2015 earthquake delayed its construction.
The Corona epidemic of 2020 pushed it away. Despite the delay, the project is now in a position to generate electricity.
This is the second project after the Melamchi Drinking Water Project to be completed out of 24 projects of national pride.
According to Kulman Ghising, former executive director of Nepal Electricity Authority, the current Corona epidemic has extended the project for a year and a half.
Upper Tamakoshi is seen as a 'game changer' project.
When electricity is generated at full capacity, it will take the country on the path of self-reliance in electricity and that will affect the national economy. This will benefit the general public and industries.
When the government has enough electricity, it will help in the construction of eco-friendly electric public transport infrastructure and will also be an important basis for future electric rail transport.
However, the total capacity of 456 MW will not be generated from today. There are 6 units in this project. Each unit generates 76 MW. One of them is about to start trial production.
The test production will last for 15 days, the project said. Only then will power generation from other units begin. After years of waiting, this project is about to pay off.