ICT Info Trade Fair begins July 1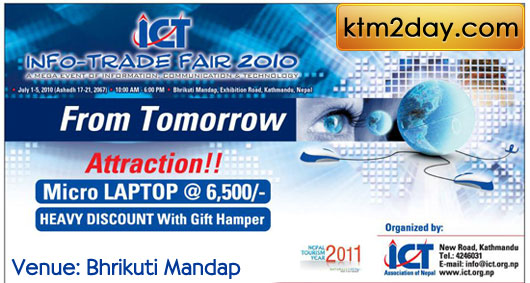 Information Communication and Technology Association (ICT) is organising the 4th Info-Trade Fair 2010 from July 1 to July 5 at Bhrikuti Mandap. The theme of the expo is "To Share Information, Communication Technology Trading".
"We are a non-profit organisation and we have been organising this expo for the past four years," said ICT president Sagar Dev Lakhe.
The event will be inaugurated by a robot made in Nepal while prizes will be dropped via a chopper all over the valley.
"People have the opportunity of winning mobile phones, hampers, bouquets, tickets, passes and so on. We are using all this to promote information and communication technologies," he added.
The fair will be showcasing new range in desktop computer, laptop, printer, photo copier and peripherals, antivirus, security solution software, inverter, solar & battery ISP, telecom, mobile services.
"We are making laptops available at a price of Rs 6,500. We will be giving visitors information about latest technology and hope someday we see each Nepali with a laptop," said Lakhe.