Raxaul-Amlekhgunj pipeline plan revived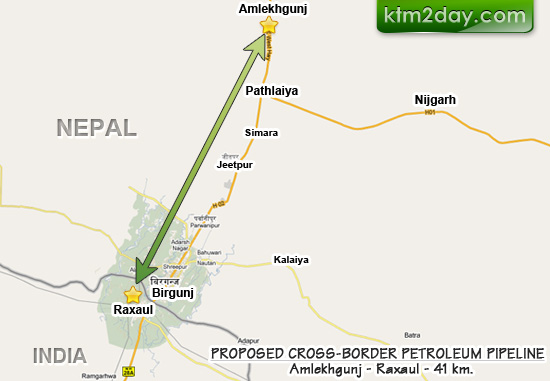 The government has revived plans to construct the much talked about cross-border petroleum pipeline to import fuel from India and ease transportation constraints.
According to the Ministry of Commerce and Supplies (MoCS), a proposal to implement the project has been sent to the Cabinet's Economic Infrastructure Committee (EIC) for further study. A Cabinet meeting on Nov 1 sent the scheme to the committee.
"Once the Cabinet okays the project, an agreement will be signed between the two countries to build the pipeline," said Deepak Subedi, spokesperson of the ministry. The ministry said that it was planning to ask Indian Oil Corporation (IOC) to build the 40-km Raxaul-Amlekhgunj pipeline. In 1995, IOC had proposed building the link but the plan has been gathering dust since then.
After a series of on-again, off-again discussions, NOC and IOC brought up the topic of building the pipeline during the signing of a new petroleum supply agreement in Kathmandu in April 2012. The move followed the High-Level Petroleum Sector Reform Committee's recommendation to immediately start the project. "The modality of the project has not been determined yet," Subedi said, adding that the ministry would finalise it after the Cabinet gives the go-ahead.
The pipeline is estimated to cost Rs 1.60 billion excluding the cost of land acquisition. A pre-feasibility study done in 2004 and a technical study done in 2006 had determined that the pipeline project would be economically viable if it is operated unhindered for 20 years.
The project is expected to reduce fuel transportation costs by over 50 percent besides reducing leakage and facilitating cleaner and cheaper supply. It could also provide relief to Nepali consumers from the frequent shortages caused largely by transport strikes and highway bandas.