Upper Tamakoshi hydel project to issue Rs 5.18billion IPO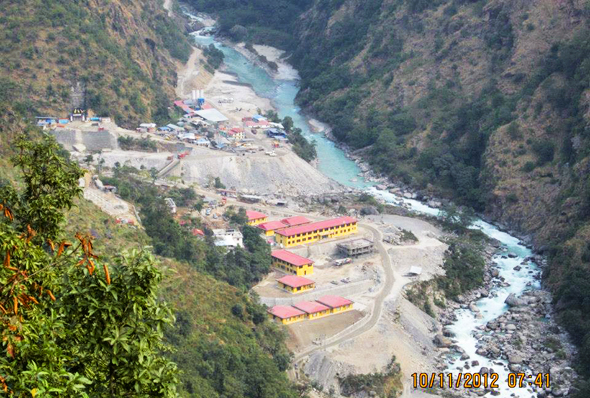 The Upper Tamakoshi Hydropower Project is all set to issue its initial public offering (IPO) worth Rs 5.18 billion, one of the largest IPOs of the country.
The project has appointed Citizen Investment Trust (CIT) as issue manager. Bigyan Shrestha, acting project chief of Upper Tamakoshi, and Rishi Ram Gautam, executive director of CIT, signed an agreement to this effect amid a function here on Tuesday. The paid-up capital of the 456MW project stands at Rs 10.59 billion, of which 49 percent would be held by ordinary shareholders.
The IPO will be issued in two phases. In the first phase, the shares will be issued for primary beneficiary (the people of Dolakha where project is located), members of the Employees' Provident Fund (EPF), its employees and employees of other lenders, including of CIT, Nepal Electricity Authority (NEA), Nepal Telecom, Rastriya Beema Sansthan and employees of Upper Tamakoshi Project itself. They have been allocated 34 percent shares in the project.
The project plans to issue ordinary shares for the general public in the second phase. The general public will have a 15 percent stake in the company.
According to a press release issued by the project, the IPO for the primary beneficiary will be worth Rs 3.6 billion in the current fiscal year. "IPO worth Rs 1.58 billion would be issued for other ordinary shareholders in the second phase," said Rishiram Gautam, executive director at CIT.
The project said it has already received Rs 5.10 billion from institutional shareholders, including NEA, Nepal Telecom, Rastriya Beema Sansthan and CIT. The institutional shareholders have pledged a combined Rs 5.4 billion. Remaining Rs 300 million will be made available before the IPO, read the press release.
The majority share (51 percent) of the company will be held by four public entities — Nepal Electricity Authority (NEA), Nepal Telecom (NT), Citizen Investment Trust (CIT) and Rastriya Beema Sansthan (RBS). NEA holds a 41 percent stake, NTC 6 percent and CIT & RBS have 2 percent each.
NEA and other lenders have pledged a combined Rs 22 billion, while the Nepal government will provide Rs 11.08 billion for the project whose estimated cost is at Rs 35.29 billion. The EPF, CIT and RBS are lending Rs 10 billion, Rs 2 billion and Rs 2 billion, respectively.
The project is expected to be completed by the end of fiscal year 2014-15. As of the first half of the current fiscal year, 40 percent work on the project construction has been completed. The project has so far spent Rs 10.5 billion.