Vehicle registration reaches an all time high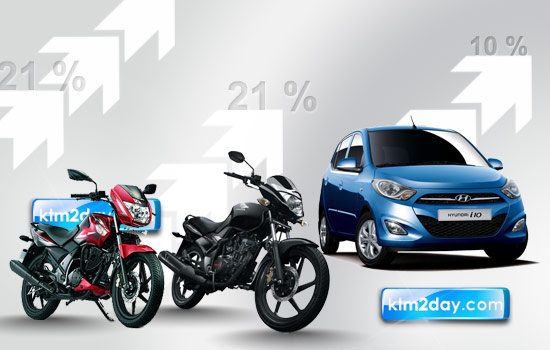 After a slow growth in 2011-12, the automobile business made an impressive turnaround in the last fiscal year, with vehicle registration reaching an all-time-high.
A total of 208,483 vehicles were registered in 2012-13, the highest so far in a fiscal year. Vehicle registration had last crossed the 200,000-mark in 2009-10 when 201,787 automobiles were registered.
After a high in 2009-10, the automobile business had suffered a setback in 2010-11 when the government hiked the excise duty and bank interest rates surged due to liquidity crisis. The slowdown continued in 2011-12, with a meagre 3.93 percent growth in registration.
Almost all automobile segments saw an impressive growth last year, with the overall registration increasing by 22 percent. Traders attributed the growth to the decline in bank interest rates on auto loans, increased sales in markets outside Kathmandu, and a surge in two-wheeler sales.
"The major contributor to the overall market growth was increased sales increased sales of two-wheelers and passenger cars," said Saurav Jyoti, immediate past president of Nepal Automobile Dealers Association. "The decline in interest rates on auto loans also helped grow the business."
The two-wheeler segment grew by a healthy 21 percent in 2012-13, according to the Department of Transport Management (DoTM). A total of 175,381 motorcycles were registered — 84 percent of the total vehicle registration — in the review period.
"Two-wheeler sales increased mainly due to the growth in demand from rural markets," said Devi Ram Bhandari, director at DoTM.
Passenger cars registration increased by 10 percent to 9,595 units, from 8,711 units in the previous fiscal year.
Registration of heavy equipment (excavators, cranes and dozers) grew by a whopping 150 percent, according to the department.
Last fiscal year, Mechi, Koshi, Narayani, Bagmati, Gandaki, Dhaulagiri, Lumbini, Veri and Mahakali Zones saw vehicle registration increase, while the registration in Sagarmatha, Janakpur, Rapti and Seti declined.
Bagmati, Narayani, Lumbini, Koshi and Gandaki were the top five zones in terms of the number of vehicles registrations.