Market sees shortage of packaged food products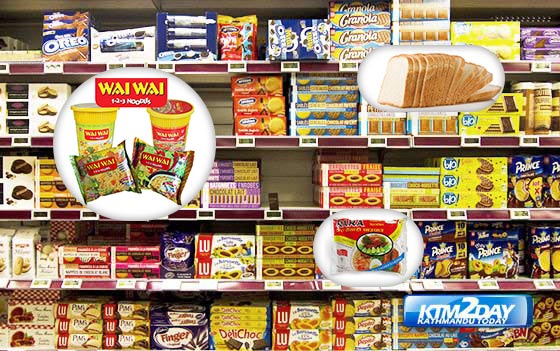 Grocery stores across the country have started running out of inventory as they have stopped receiving fresh stocks of packaged food products like noodles and biscuits. With factories closing down for lack of raw materials and fuel as a result of the Indian embargo and unrest in the Tarai, empty store shelves have become common.
Most noodle factories have stopped production while the rest are on the verge of closure. Nepal imports raw materials like palm oil, chemicals and noodle packets from India and third countries. According to industry sources, there are eight noodle factories in the country.
Umesh Poudel, a retailer at Tinkune, said that his shop had been out of stock of noodles for the past 15 days. "After contacting many wholesalers, I brought one carton of Jays noodles which I had never seen in the market earlier," he said, adding that other brands like WaiWai, Mayos and Rara were not available in the wholesale market. Consumers have complained that some retail outlets have been overcharging them citing the short supply in the market.
Meanwhile, industry officials said that they had been unable to keep their factories running due to lack of raw materials. WaiWai, one of the largest selling brands in the country, has disappeared from store shelves as the plant in Bhaisepati, one of the two plants where it is produced, has been closed down.
The second factory located in Nawalparasi has been operating at 20 percent of its capacity.
"We have been forced to slash output as most of the raw materials like edible oil and packaging materials come from India and other countries, and shipments have halted due to the Indian blockade," said Madhusudan Poudel, general manager, corporate communications at the CG Group.