Nepal ranks lower in Corruption Index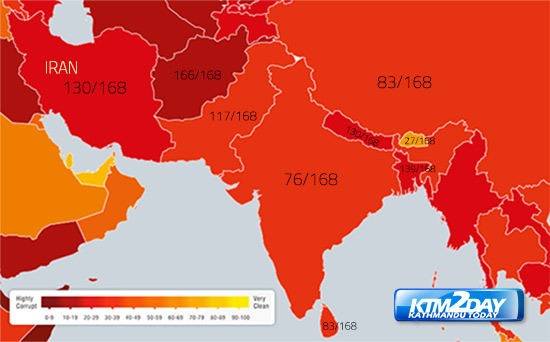 Nepal has slipped four positions to rank 130th out of 168 countries in the Corruption Perceptions Index (CPI)-2015, a global report unveiled by the Transparency International (TI) said on Wednesday.
Nepal had slipped 10 positions to rank 126th out of 175 countries in the survey carried out in 2014, while it was in the 116th position out of 177 countries surveyed by the TI in 2013.
Nepal scored 27 points out of 100 in a scale in which a score of zero means highly corrupt and 100 corruption free.
Among the South Asian countries, Bhutan has been placed in 27th position, India has ranked 76th and Sri Lanka is at 83rd position.
Likewise, Pakistan got placed in 117th place, Bangladesh in 139th and Afghanistan has been placed in 166th position. Maldives has not been included in the global list.
Denmark topped the list with 91 points, while Somalia and North Korea have been ranked as most corrupt countries as they scored just 8 points out of 100, the report said.
Corruption Index Toppers(Most Clean Countries)
1. Denmark
2.Finland
3. Sweden
4. New Zealand
5. Netherlands + Norway
Corruption Index Losers(Most Corrupt Countries)
1. Somalia
2. North Korea
3.Afghanistan
4. Sudan
5.South Sudan