Nepali commuters to get a taste of electric bus in the next 3 months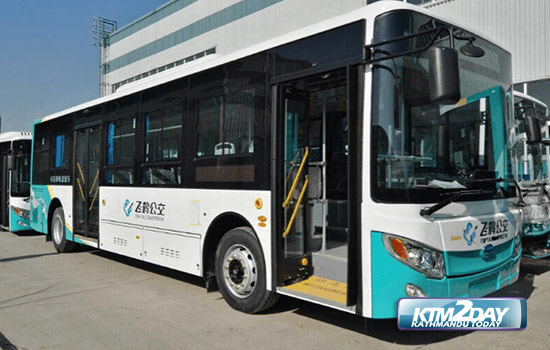 For the first time in Nepal, a battery-run e-bus is set to come into operation on the roads of the Kathmandu Valley. The public would get to commute in the bus within the next three months.
The bus is developed by CNC Brand of China and will be operated by International Green Developers Nepal Pvt Ltd, the producer of Gorkha Eco Panels. The company said they will operate the bus only in the valley during the first phase. After that, they plan to operate the electric bus across the country.
Gorkha Eco Panels would be the authorized dealer of the bus across the country as they signed an agreement with CNC, which is based in China's Wuhan Province. Krishnabhakta Duwal, Chief Executive Officer (CEO) of Gorkha Eco Panels, confirmed that they plan to bring the bus into operation within three months.
"For that, we are currently making all the necessary preparations. We are preparing to bring the bus into Nepal at the earliest," he said. "Furthermore, we are studying which route will be the best one to operate the vehicle. We are also doing feasibility studies on location of its charging station."
It would take three hours for the bus's battery to get charged fully. Once fully-charged, the bus can run 250 kilometers.
The company is planning to bring two types of buses in the first phase. The first type will be 10.5 meters in length, with 40 seats and the capacity to accommodate up to 90 people. Another type is six meters in length, with 15 seats and the capacity to accommodate 35 people, said CEO Dulal.
While private electric cars from Korea and India are already operating in Nepal, this will be the first time for electric public vehicles.