WWF states Nepal to become first country to double tiger population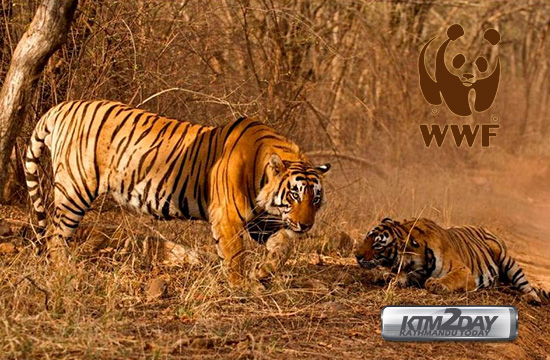 Nepal is likely to be the first country in the world to double its tiger population. On the occasion of National Conservation Day today, Nepal announced that there are now an estimated 235 wild tigers in the country, nearly doubling the baseline of around 121 tigers in 2009.
According to a press release issued by WWF, Nepal, if these trends continue, Nepal could become the first country to double its national tiger population since the launch of ambitious TX2 goal at the St Petersburg Tiger Summit in 2010 to double the world's wild tiger population by 2022.
Nepal conducted its national tiger survey between November 2017 and April 2018 in the transboundary Terai Arc Landscape (TAL), a vast area of diverse ecosystems shared with India.
The earlier tiger survey in 2013 had estimated the tiger population at 198. The Secretary, Ministry of Forests and Environment of Nepal Bishwa Nath Oli said protecting tigers is a top priority of the government.
The Country Representative of WWF-Nepal Dr. Ghana S Gurung said that while Nepal is just a few tigers away from achieving the goal of double tiger numbers by 2022, it also underscores the continued need to ensure protection and improved and contiguous habitats for the long-term survival of the species.