Nepali rupee devaluates further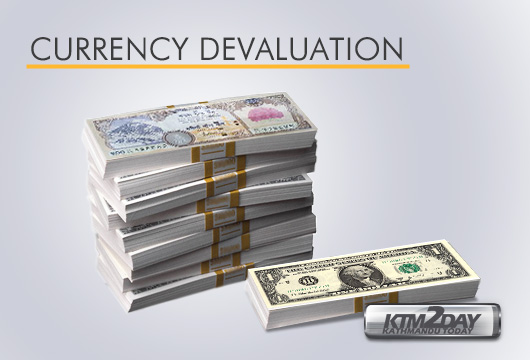 The value of Rupee plunged further to a new low of Rs 119.33 against US dollar, according to the reference rate set by the Nepal Rastra Bank for Wednesday.
On Tuesday, the US dollar was traded at Rs 118.8. This means the Nepal Rastra Bank will sell one US Dollar on Friday at Rs 119.33, the most ever. This reference rate will be used by others who are authorized to do foreign exchange business including commercial banks and money changers.
Also read – US Dollar rate scales new height
As Rupee is pegged with Indian currency, the local unit is also sinking along with the Indian rupee. Value of Indian rupee fell to a new low of 74.339 against dollar on Tuesday.
While the appreciation of the greenback is good for Nepal in some ways, the domestic currency's steep slide is going to be a headwind for the fragile economy, say economists. The dollar appreciation supports growth of exports earning and demand, while the remittance receiving households also benefit from the windfall gains. Tourism industry also gains from the strong dollar
However, policymakers worry that the strong dollar is likely to compound trade deficit and balance of payment situation of the country.