Taxi Drivers flouting rules to face six month suspension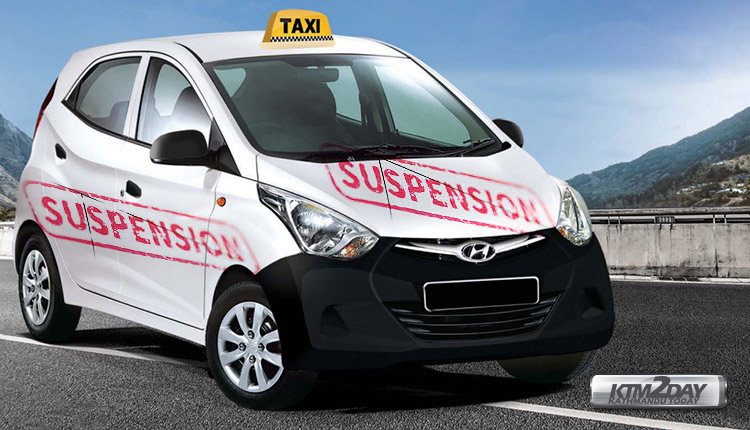 Taxi drivers in Kathmandu valley who bargain with passengers on fare, do not drive to destinations demanded by them and tamper with meters will be barred from driving for a period of six months from now onwards.
The rule aimed at curbing anomalies in cab service in Kathmandu valley was enforced today. Traffic police introduced the rule based on a request made by the Department of Transport Management.
As per the rule, driving licence of cab drivers, who violate rules for six times, will be suspended for six months. The offences that could lead to suspension of driving licence are: failure to instal meter reader in the cab, tampering with the meter, overcharging passengers or bargaining with them on fare and expressing unwillingness to drive passengers to destinations demanded by them.
"Any cab driver found committing these offences for six times will face action," Basanta Kumar Panta, senior superintendent of police and the chief of Metropolitan Traffic Police Range, Kathmandu, told this correspondent.
"Taxis must ferry passengers to their desired destinations and should not charge extra for providing this service. But this is not the case in the valley," said Panta. "We hope the new rule will help us drastically reduce malpractices seen in taxi service in the valley."
Traffic police will keep record of rule violation by inspecting the market and based on complaints registered through hotline (103) and traffic police's Facebook and Twitter pages.
"All complaints will be verified before warning or taking action against taxi drivers," Panta said.
The new rule will, however, apply to cabs operating within the Ring Road or two kilometres outside the Ring Road.
Around 10,500 taxis are registered in the valley of which over 9,000 are in operation. The traffic police book 40 cab drivers every day for committing offences.
Traffic police have found that majority of taxi drivers in the valley try to rip off commuters and do not comply with rules. For example, the government has made it mandatory for cab operators to install high-tech meter reader in their cabs. But most of the cab owners either don't have those meters installed or are operating by tampering with the meter.
Transport Department officials said malpractices are rampant in the cab service market because of weak legal provisions against offences such as deceiving passengers. "We are planning to review those laws so that the interest of passengers is protected," said Lawanya Prasad Dhakal, director general of the Department of Transport Management.