Bugatti Chiron nearly broke the 500 km/h barrier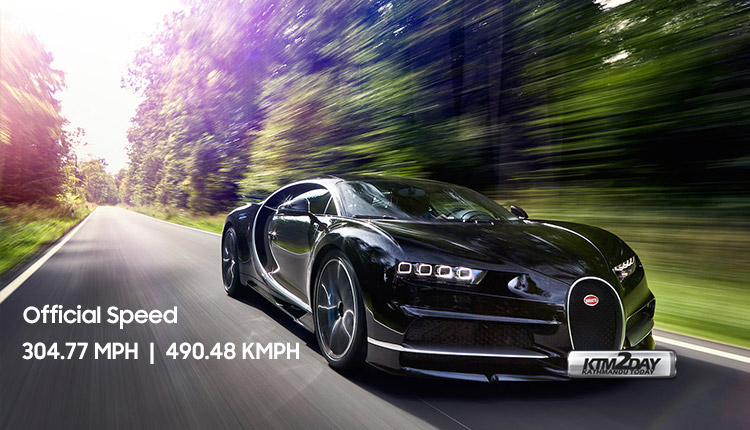 And a new record for Bugatti ! The luxury car manufacturer based in Molsheim has announced that a prototype derived from a standard version of its famous Bugatti Chiron has exceeded the 300 mph mark, more than 490 km/h!
This modified Bugatti Chiron model was driven by British driver Andy Wallace for the record breaking event. It reached exactly the speed of 304.773 mph, or 490.484 km/h. Bugatti can boast of having set a new speed world record being the first car manufacturer to reach a speed exceeding 300 miles per hour.
This Bugatti speed record was made on a Volkswagen Ehra Lessien test track in Germany, August 2, 2019.
Bugatti has broken the 300mph barrier. A modified Chiron hits 304.77mph at Ehra-Lessien → https://t.co/Bixkaq9dkf pic.twitter.com/hsY5kj02HD

— Top Gear (@BBC_TopGear) September 2, 2019

According to official photos, the new Chiron has a modified body with a longer rear to keep the tires on the ground at high speeds. Carbon fiber was used for balance and weight.
Bugatti has yet to reveal whether it makes more changes like suspension or engine. The original Bugatti Chiron has an 8-liter, 16-cylinder engine with 1,500 horsepower. The original version is considered extremely fast so the speed of the prototype used should be astronomical.
Also from Bugatti, the Veyron Super Sport reached 267 miles per hour (429 kilometers per hour) in 2010 on the same German track. However, 7 years later, Swedish manufacturer Koenigsegg managed to reach 285 mph (458 km / h). Therefore, Bugatti 'took revenge' 2 years later, with the recent test.