Wordlink introduces 600 Mbps high speed internet in Nepal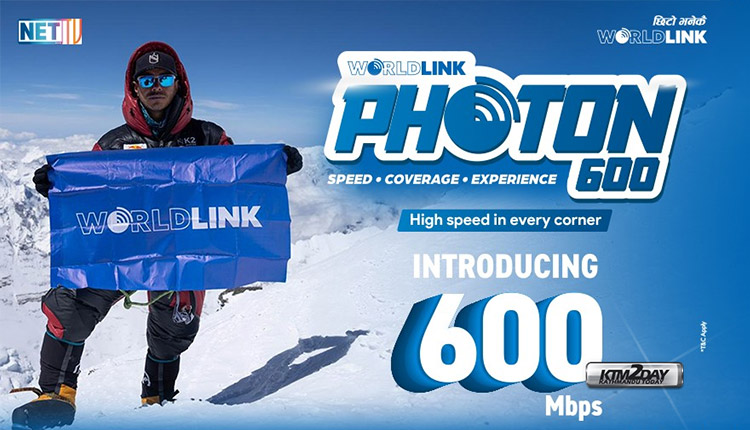 WorldLink, Nepal's largest internet service provider, has introduced 600 Mbps internet for the first time in Nepal. According to WorldLink, the package is aimed at providing high speed internet service to the consumers at affordable prices.
To achieve such high speeds, the company will use Nokia Beacon 3.0 router. The company has also announced that WorldLink's internet speed will now be at least 150 Mbps.
Consumers will be able to experience at least 150 Mbps internet at a cheaper price than before, the company said.
Home users will now be able to consume 150 Mbps internet for only Rs 14,400 per year, i.e. Rs 1,200 per month.
The company has said that the internet with 150 Mbps, 225 Mbps and 300 Mbps speeds will be available at a lower price than before.
'WorldLink is always committed to providing quality internet services to consumers at affordable prices. We have unveiled a new plan to make Nepal's internet speed competitive in the world, "said Manoj Agrawal, Director, WorldLink.
According to various statistics, the average internet speed in the world is 80 Mbps, while the average internet speed in Nepal is only at 22 Mbps.
The company, which has a subscriber base of 5.50 Lakh has unveiled a new plan that is expected to upstep Nepal's internet speed to an average of 80 Mbps.
WorldLink has unveiled its new plan at a function held in Kathmandu on Wednesday.
The company expects high-speed internet to make it much easier for consumers to do office work at home, watch videos, engage in online classes and play a variety of games.
Current users of WorldLink can easily participate in the new plan. For this, only a router with dual band will be required.
The company is confident that this plan will solve the problem of Wi-Fi coverage and low speed of internet service among it's users.