Sundar Yatayat to operate electric buses(EVs) from today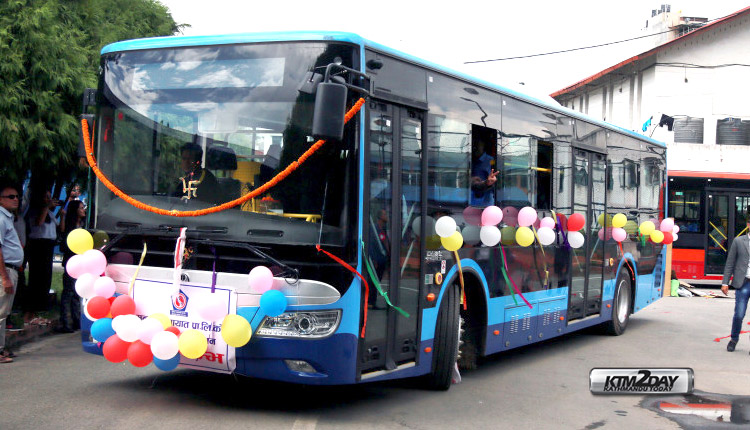 With an aim to reduce the use of fossil fuels and protect the environment, the private sector initiated Sundar Yatayat Pvt Ltd is all set to operate electric vehicles (EVs) from Monday.
Bhesh Bahadur Thapa, chairman of Sundar Yatayat, said the company has completed all the operating procedures as required by the government and will be operating four electric buses along the Ring Road. "The electric buses are air-conditioned," he added.
"In the first phase, we have planned to operate these buses along Ring Road from tomorrow and in the next phase we will operate our buses along other routes of Kathmandu after we obtain the route permit from the government," Thapa informed.
The company has already brought four electric buses for the service and placed an order for more such buses to operate along different routes in Kathmandu Valley.
"We have applied for permission at the Department of Transport Management (DoTM) to provide our services along additional routes. I hope they will provide the permit for three additional routes by next week," Thapa added.
According to him, the company has applied for permission to operate its buses in the New Buspark to Satdobato route too for which the company expects to get the permit by this week.
Electric Bus Routes
The service will start from New Buspark and pass through Maharajgunj Chakrapath, Baluwatar, Putalisadak, New Baneshwor and Koteshwor before reaching Satdobato and return along the same route.
The company plans to start its electric bus service in Biratnagar and Butwal too in the near future.
Meanwhile, Sundar Yatayat also established a charging station for electric vehicles in Kathmandu last week. The company has plans to construct five more charging stations in Kathmandu, Biratnagar and Butwal.
Thapa claimed that a fossil fuel run bus moving along the Ring Road consumes fuel worth Rs 4,000 daily whereas an electric vehicle uses electricity worth only Rs 700. This thus makes transportation by electric vehicles cheaper.
Last week, the government finally determined the fare for public EVs albeit on a temporary basis. The DoTM for the time being has decided to fix the fare of public EVs which is similar to that of other fossil fuel operated public vehicles.
Thapa further said that the company has decided to provide 20 per cent discount to travellers on the existing fares charged by fossil fuel run public vehicles. The company has already fixed the fee to charge electric buses at Rs 4.20 per unit.
Fares
At present, the fares determined by DoTM range from a minimum of Rs 14 to a maximum of Rs 1,875. However, fare for trips in Kathmandu Valley for the moment has been fixed at Rs 29 for a 19-kilometre distance.