AMD launches Radeon RX 5700 and RX 5700 XT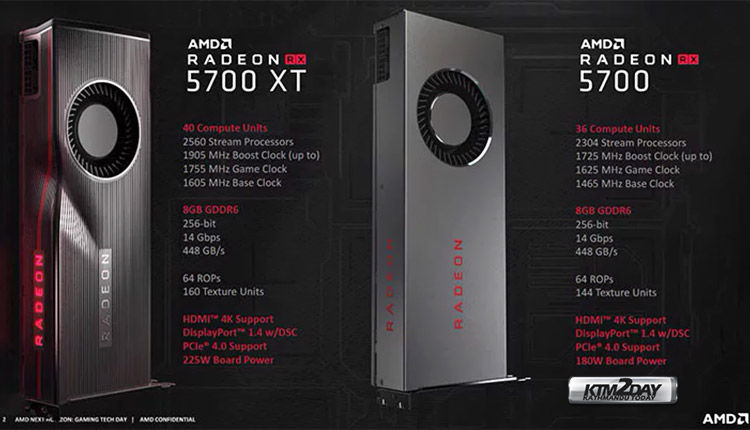 AMD has officially announced its new graphics cards. The Radeon 5700 and 5700 XT has landed on the market to offer competition to Nvidia RTX 2060 and 2070, respectively.
The most powerful model is the 5700 XT, which in a demo shown during the presentation got 20fps more at 1440p than the RTX 2070 from Nvidia. The two graphics will hit the market on July 7, and are presented as "mid-range".
On average, it will be 10% faster than the competitor
AMD revealed the potential of the new graphics. With a resolution of 1440p they can be, on average, 10% faster than their opponents. The RX 5700 XT was compared to the RTX 2070 from Nvidia. The RX 5700 has already been placed next to the RTX 2060 in various games in terms of performance factor.
As a surprise, the company also revealed a version of the RX 5700 XT on its 50th anniversary. This comes with speeds above 10 Teraflops, but it'sblack design with touches of gold that jumps out in the open. This will be a limited edition priced at $ 499.
The new graphics will hit the market on July 7 for $ 379 (RX 5700) and $ 449 (RX 5700 XT). The company is still working on it's  version of Ray Tracing feature, which is currently only exclusive to Nvidia graphics.
RX 5700 XT Specifications
40 Computing Units
Up to 9.75 Teraflops
8GB GDDR6 Memory
Up to 1905MHz Boost Clock
Up to 1755MHz Game Clock
Up to 1605MHz Clock Base
225W TBP
Price: $ 449
RX 5700 Specifications
36 Computing Units
Up to 7.95 Teraflops
8GB GDDR6 Memory
Up to 1725MHz Boost Clock
Up to 1625MHz Game Clock
Up to 1465MHz Clock Base
180W TBP
Price: $ 379