Apple opens showroom in Capital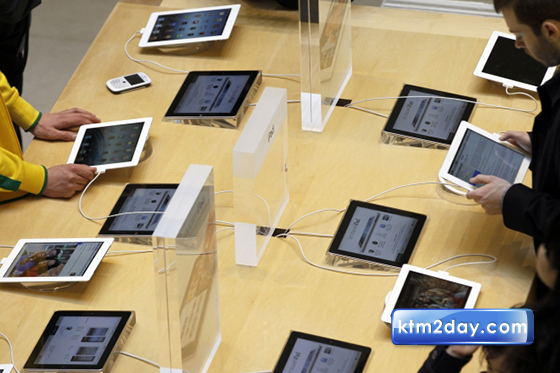 Apple has opened its first showroom in Kathmandu by appointing SG Global as the authorised distributor for Nepal. The company will provide a wide range of Apple products from the outlet.
Akhil Gupta, executive director of the company, said that the retail store was one of its kind in the Kathmandu valley offering genuine Apple products and quality accessories. He added that they had opened the showroom to offer customers a unique experience.
"Customers will be able to touch, feel and experience every product at the showroom," he said. "They can learn everything related with the use of Apple products such as how to download applications and use the photo browser, among other things."
Spread over an area of 1,350 sq ft at Naxal, the store offers iMac in 21-in and 27-in models at prices ranging from Rs 166,199 to Rs 271,299. The company offers Mac Book Pro and Mac Book Air in the price range of Rs 124,399 to Rs 244,699. Likewise, the iPod Shuffle 2 GB, iPod Nano 16 GB and iPod Classic and iPod Touch 16 GB and 32 GB are available in the price range of Rs 6,799 to Rs 41,799.
Gupta said that they would be selling the Apple iPhone and accessories soon. The company plans to open more retail stores elsewhere in Kathmandu and in other districts. He added that sales of premium range products had been swelling with a growing number of technology enthusiasts.
"The market was growing, but there was no authorised dealer in Nepal. So we opened a state-of-the-art showroom in the Kathmandu valley," he added. "We aim to develop the showroom as a 'concept store' where customers can learn about various technologies and programmes besides buying our products and obtaining after sales service."
LIST OF APPLE STORES IN KATHMANDU
Apple Authorized distributor of its products
Generation Next Communications Pvt. Ltd.
Adress: 2nd Floor, Sherpa Mall, Nepal
Tel: 01-4220864/72
Email: [email protected]
Official Showrooms of Apple Products 
Evo Store, Kathmandu Valley (9801304561)
Futureworld, Kathmandu Valley (9849404974)
Oliz Store, Kathmandu Valley (9861060000)
New Sonu Mobile, Kathmandu Valley (9751093612)
City Computer, New Road
Lalit Trading, New Road
Nep Tech trade center, Putalisadak
Apex Digital (9801813415)
Computer Sales Center, Butwal (9857030163)
Himalayan Office Automation, Pokhara
Quality Computer, Birtamod (9852671548)
RPL, Birtamode
Imaging Trading Concern, Dhangadhi
CG Stores
Apple Authorized Service Center in Nepal
Mercantile Plaza, Durbar Marg, Kathmandu
Tel: 977-1-‎4212100, ‎977-1-4229660