Dharahara reconstruction project achieves 32 percent progress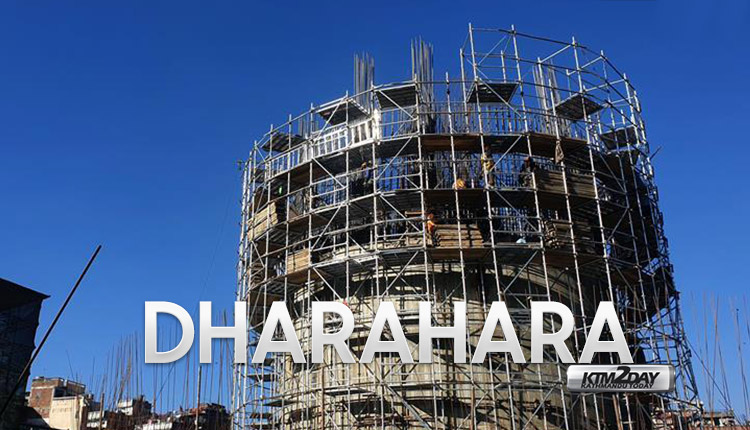 Thirty-two per cent of reconstruction works of the historic tower Dharahara has been completed so far and if everything goes as planned, its construction will be completed within December next year, as per National Reconstruction Authority (NRA).
Sushil Gyewali, chief executive officer of NRA, who inspected the ongoing reconstruction process of the historical monument on Tuesday, applauded the progress achieved in reconstruction of Dharahara and encouraged the developer to complete the project within stipulated timeframe.
Reconstruction of Dharahara, which collapsed in the 2015 earthquake, had begun after Prime Minister KP Sharma Oli in December last year laid the foundation stone for the 18th century monument. Dharahara is being reconstructed at an estimated cost of Rs 3.48 billion, of which Rs 750 million has already been invested so far, as per NRA.
GIETC-Raman joint venture, a Nepal-China joint venture firm, is the developer of the iconic tower.
As per NRA, works regarding concreting the basement of Dharahara and lifting beam slabs have been completed.
Similarly, laying of pile protection foundation has also been completed.
"As Dharahara is directly attached to the country's pride, all stakeholders should support its reconstruction and help to complete the project on time," added Gyewali.
The Dharahara reconstruction project covers an area of 22 ropanis, for which the NRA had acquired around 15 ropanis of the General Post Office and additional three ropanis of Sundhara and few other plots owned by Guthi Sansthan.
The new Dharahara will be approximately 294 feet tall with two elevators.
The Dharahara complex will comprise a mini theatre hall, a museum, a musical fountain, a food court, stone water spouts, souvenir shops and basement parking.