Kia Soul EV now available in Nepal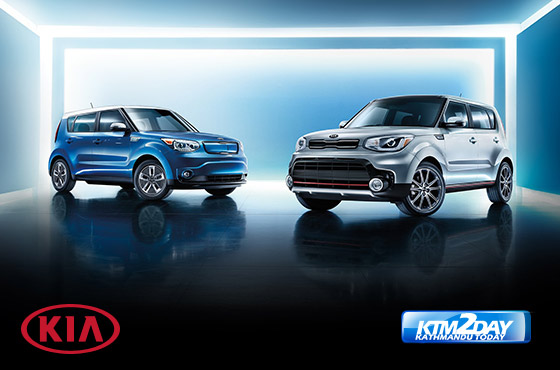 If you are looking for an electric car to buy then Kia Soul EV deserves to be on your shopping list. The Kia Soul EV marks the South Korean brand's first foray into the UK electric-car market. The sole authorised distributor of Kia Motors in Nepal is Continental Associates.
Its square, box-shape exterior makes it extremely spacious inside with the headroom holding the most appeal. Kia boasts a 109bhp electric motor and 27kWh lithium-ion polymer battery that gives the Soul EV a range of up to 132 miles. Recharging the batteries takes around four to five hours. With its claimed range of 132 miles between charges, the Soul makes for an enjoyable zero-emissions urban runabout within a reasonable range. Charging the Soul EV's batteries can be done in one of the three ways: a standard three-pin plug will take 12 hours to give a full charge, a fast charger takes around four to five hours, while a rapid public charging station takes 33 minutes to replenish the batteries to around 80 per cent. The Soul EV comes with two types of charging cables to connect to your household supply or a dedicated charging point.
"I have been driving Kia for a long time now. It is stress-free and simple. In our current motoring conditions, from bad roads and drivers to erratic fuel supply, it is a relief to drive a car that brings back the joy of driving. It has all the luxuries and amenities of its petrol bound counterparts. And, it being a battery-powered vehicle doesn't mean loss of power or torque. It has all the comforts of a standard SUV. It is totally reliable and reasonably priced for its segment," says Shreejana Rana, Executive Director, Hotel Annapurna. The price of Kia Souls is Rs 56,00,000.