Prabhu Net internet service launched based on FTTH technology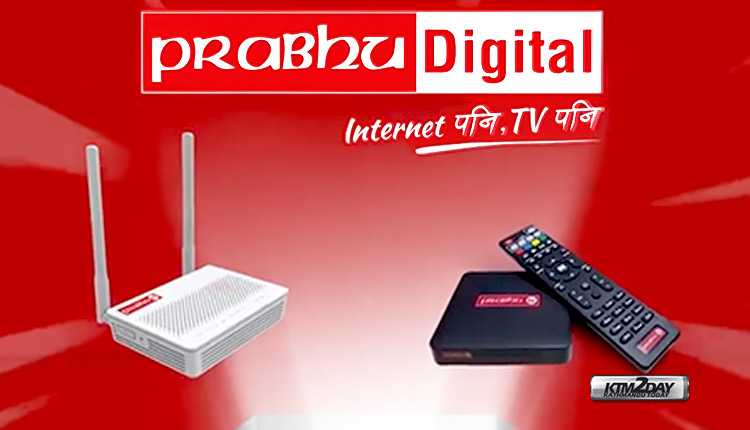 Nepal's leading service provider of IPTV, OTT & T2 known as " Prabhu TV" now announces the new product " PRABHU NET" where you can get the purest experiences of residential and enterprise-level internet services.
Additionally subscribers can now enjoy surfing the Internet and IPTV at the same time through World's latest Optical Fiber Technology.
With the launch of internet services, the company has now officially combined both internet and digital tv service into one "Prabhu Digital" package.
The services will be rolled out initially in the Kathmandu valley in certain areas where there are high number of Prabhu TV subscribers and will eventually be available on other areas.
The company has launched internet services based on the latest Fiber to the Home or FTTH technology. Internet subscribers can choose speeds from 30 Mbps, 50 Mbps and 60 Mbps according to their needs.
The company has also assigned IME Pay as official payment partner which facilitates subscribers to pay their bills conveniently online. You can also pay your bills from Prabhu Pay/ e-Sewa/Khalti/QPay.
Prabhu Digital FTTH Internet Service Package Prices
30 mbps
Installation cost with set up charge
Only internet 12 month – 15000
Internet with 1 IPTV 12 month – 17000
Internet with 2 IPTV 12 month – 20000
Internet with 3 IPTV 12 month – 22000
50 mbps
Installation cost with set up charge
Only internet 12 month – 19000
Internet with 1 IPTV 12 month – 21000
Internet with 2 IPTV 12 month – 24000
Internet with 3 IPTV 12 month – 26000
60 mbps
Installation cost with set up charge
Only internet 12 month – 22500
Internet with 1 IPTV 12 month – 24500
Internet with 2 IPTV 12 month – 27000
Internet with 3 IPTV 12 month – 30000