Mobile operators compete fiercely for market share in Nepal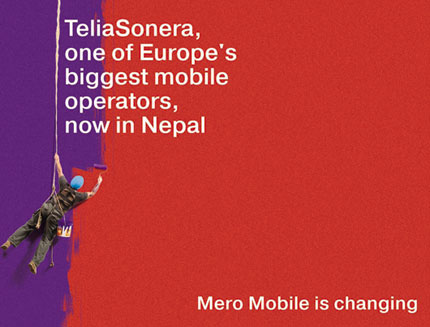 The number of mobile phone users in the country has increased significantly in the last five years. The two major players in the market-Nepal Telecom (NT) and Spice Nepal-have seen a surge of customers and in the mean time the competition too has gone neck-to- neck.
The total number of subscribers has increased to 5.77 million as of Jan. 14 from 385,996 five years ago. Even though, NT, earlier Nepal Telecom-munication Corporation, started offering mobile service in 1999, the company saw a sudden growth of users only after a private mobile operator, Spice Nepal, made its foray into the market in September 2005.
According to Nepal Telecommunication Authority (NTA), the telecom regular in the country, there were 299,140 users of NT and 86,844 subscribers of Spice Nepal five years ago. The mobile penetration rate was 1.50 percent, which now has grown to 23.22 percent.
Competition among the operators, increased network coverage, free of cost incoming calls, launch of pre-paid services, GPRS facility, increasing purchasing power of people, easy availability of cheaper handsets are some of the major factors behind the astronomical rise in the number of mobile users.
"It used to cost Rs. 52,000 for a handset and SIM during the early days," said Kailash Neupane, spokesperson of the NTA. "Now, at Rs. 5,200 you can have a sophisticated set and SIM too." Prices of almost all commodities have increased in the last five years. But it was mobile service charge and cost of devices that have gone down.
"Till a few years ago, we could just think about acquiring a mobile," said Satish Gauchan, a bachelor level student. "The same set which used to cost Rs. 10,000 two years back now is priced at just Rs. 3,000."
NT's GSM and CDMA mobile services have reached all 75 districts of the country and the company is also distributing an average of 100,000 SIM every month. But the service quality has not improved despite a series of complaints from the users and direction from the regulatory body.
Similarly, Spice Nepal is also constantly expanding its coverage, adding new cities and regions to its network. It is planning to cover all 75 districts by the end of June this year. As of date, Spice Nepal has its network coverage in 52 districts. The number of subscriber will continue to increase further as STM Telecom has already started to distribute EGSM-base cellular service.
But still, NT and Spice Nepal has new schemes every other day. Both the operators have been introducing schemes such as free SIM card and low price call rates to increase the number of users. "This competition to increase number of subscriber within their won network does not gel well for the healthy growth of mobile service sector," said Ananda Raj Khanal, a director of the NTA.
| | | |
| --- | --- | --- |
| | As of Jan. 14, 2006 | As of Jan. 14, 2010 |
| NT GSM Subscriber | 299,140 | 3,556,872 |
| NT CDMA mobile Subscriber | x | 611,958 |
| Spice Nepal GSM Subscriber | 86,844 | 2,218,366 |
| Mobile Penetration Rate | 1.52pc | 23.22pc |
| Total Telecom Penetration Rate | 2.03pc | 27.15pc |
| Total Population | 25.34m (Then projected) | 27.50m (Projected) |