Etihad Airways income rose 29.2 pc to $2,951 million in 2010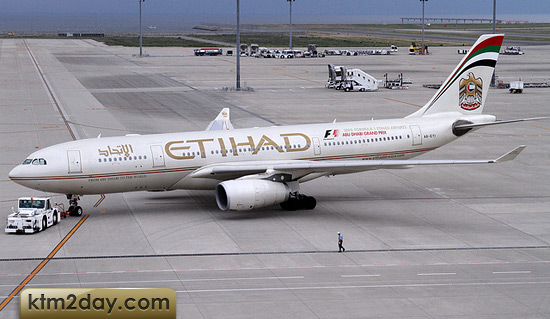 Etihad Airways today reported a 29.2 per cent rise in revenue in 2010 to $2,951 million from $2,285 million a year ago, significantly outpacing its capacity growth, which saw available seat kilometres (ASKs) rise by 19.5 per cent to 45.1 billion from 37.8 billion a year ago.
The result marked a continued progress towards the airline's goal of break-even in 2011 and profits in 2012. Passenger numbers topped seven million for the first time, up by 13.1 per cent to 7.099 million, while seat factors increased by 0.5 percentage points, to 74 per cent. Similarly, Revenue Passenger Kilometres (RPKs) rose by 20.1 per cent from 27.8 billion to 33.4 billion. The airline confirmed that, as previously forecast, it had reported positive earnings before interest, taxation, depreciation, amortisation and rentals (EBITDAR) for the full year, the first time it had achieved this since it was formed in 2003.
"This is a result to celebrate," James Hogan, Etihad Airways' chief executive officer, said, adding, "In a year in which we dealt with the continuing effects of global recession, erupting volcanoes, riots in Thailand, and severe weather across Europe at one of our busiest times of the year, we were still able to deliver an impressive performance."
"We continued to invest in routes and infrastructure, adding seven new destinations during the year as well as welcoming more than 800 new employees to the Etihad family. Yet despite this, we brought our costs down while increasing passenger numbers and yield," he said, adding that on top of all of this, the airline is delighted when its investment in product and customer service was recognised when it were named the World's Leading Airline for the second year running. Etihad launched services to Alexandria, Baghdad, Colombo, Erbil, Nagoya, Seoul and Tokyo in 2010, as well as opening new premium lounges in Dublin and Manchester. Its fleet increased by six to 57 aircraft.
In August, the company announced a major new partnership with Virgin Blue, allowing the two airlines to offer a joint network of more than 100 destinations, as well as integrating their frequent flyer programmes. The airline's cargo division performed particularly strong in 2010, with revenues up by 57.4 per cent over 2009. This was bolstered by the airline's developing route network as well as investment in dedicated freighters.
Etihad took delivery of two Airbus A330-200 freighters during the year, which joined its existing fleet of four cargo-only aircraft. Hogan said the airline's cost management programme was an important element of its performance during the year. "We began a cost reduction programme in 2010 to identify $250 million of annualised cost savings," he said, adding that the outlook for 2011 was strong, with global operating conditions continuing to improve.
"We are seeing a growing confidence in many of our international markets, pointing to a strong performance in 2011. Premium travellers are returning, particularly on our 'trunk routes' into Europe, Asia and Australia, and forward bookings look positive.
Etihad Airways, the national airline of United Arab Emirates that flies daily to Kathmandu, has started a non-stop flight from Abu Dhabi to Tokyo, making it more convenient for passengers to fly to and from Tokyo, linking Kathmandu from March 27. The daily flights will link Kathmandu with Abu Dhabi and Tokyo without passengers having to wait for hours in transit.(Source:THT)