NTA asks government to fix fee for 3G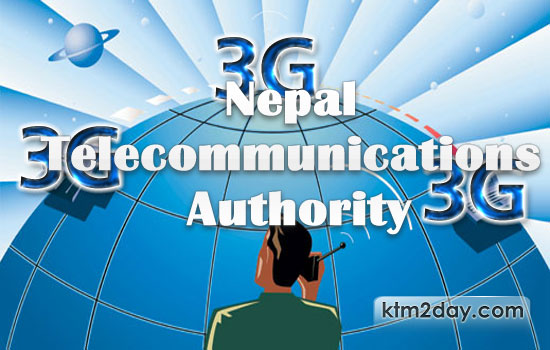 The Nepal Telecommunications Authority (NTA) has asked the government to fix fee for 3G (third generation) frequency as a temporary solution. Currently, two telecom operators, Nepal Telecom and Ncell, have been using 3G spectrum of 10 MHz each free of cost.
On Sunday, the telecom regulator submitted the recommendation along with a monthly progress report to the parliamentary Public Accounts Committee (PAC) and the Ministry of Information and Communications. PAC last month had told government agencies including the NTA to submit a monthly progress report on the implementation of recommendations based on its report regarding the telecom sector.
NTA Chairman Bhesh Raj Kanel said that they had urged the government to fix the fee for 3G spectrum which could be adjusted later. "It has become necessary to charge the operators before the government devises a mechanism for spectrum auctioning based on PAC's directives," he said.
The telecom regulator had assigned 10 MHz 3G frequency to Nepal Telecom on May 29, 2006 and 10 MHz to Ncell (then named Spice Nepal) on July 29, 2007. According to the NTA, the government should fix two rates for use of 3G frequencies — one for the period before fiscal 2010-11 and another for the subsequent period as use of 3G services has increased significantly lately.
The PAC report on the telecom sector unveiled on Jan 10 had recommended that 3G and Wimax frequencies be allocated through an auction. "The government should charge a fee as determined during the auction in the future from Nepal Telecom and Ncell."
The PAC study had shown that the government's negligence to auction 3G frequencies had caused a revenue loss of Rs 7-10 billion to the government.
In the NTA's recommendation, the Radio Frequency Policy Determination Committee of the Ministry of Information and Communications has proposed a fee of Rs 7 million per MHz of 3G frequency. If the committee headed by the minister approves the NTA proposal, the government will collect Rs 140 million annually until it goes for auctioning frequency.
An official at the Ministry of Information and Communications said that the NTA had proposed fixing a "certain fee" after consulting Minister Jaya Prakash Prasad Gupta, who is also the chairman of the committee. "The NTA asked the committee to carry out an impact assessment and make alternative provision for dealing with frequency issues before dissolving the Telecommunications Frequency Distribution and Pricing Policy 2011," the official said.
The PAC report had recommended scrapping the frequency distribution and pricing policy that has no provision of auction. PAC has also directed that all the NTA decisions taken after Jan 14, 2011 regarding it be scrapped. Regarding most of the issues raised by the PAC study, the NTA has underscored the need to form expert committees to bring change in the telecom sector.(Source:ekantipur)