Nepali deposits in Swiss banks drop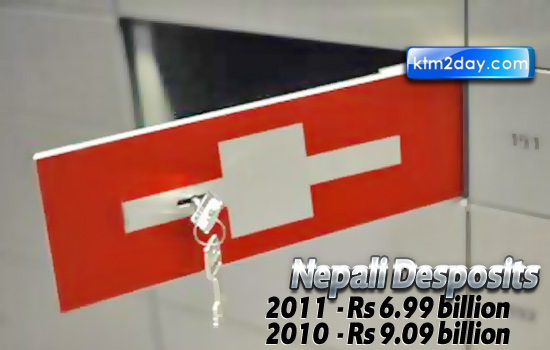 The amount of Nepali money stashed away in Swiss banks has declined in 2011. According to 'Banks of Switzerland 2011' published by Swiss National Bank (SNB), Nepali deposits were worth Swiss francs 74.66 million (Rs 6.99 billion) in 2011, down from Swiss francs 97.14 million (Rs 9.09 billion) in 2010.
Nepali deposits in Swiss banks hit a 10-year high in 2007, as reported by The Kathmandu Post on May 27, 2009 (see "The Swiss connection"). The stash dropped in 2008 and 2009 before increasing again in 2010.
Bankers said stringent conditions in Swiss banks may have prompted depositors to move their deposits to other countries. The Swiss government has relaxed its banking secrecy laws that provided extreme forms of client confidentiality until two years ago.
"Now, Swiss banks have to reveal the actual beneficiary of the account," said a CEO of a leading local bank. "Depositors may have transferred their money to safer destinations out of fear that their details might be revealed."
Switzerland is currently grappling with a US crackdown on wealthy Americans hiding funds in its banks. It is also seeking to avoid European Union pressure to make its banking system more transparent with a series of withholding tax deals and lump-sum payments. Swiss officials recently pledged a clean-money strategy, and are now seeking to ensure that private bankers do not deal with funds that have not been taxed.
As Nepali commercial banks do not usually deposit their foreign currency holdings in banks in Switzerland, bankers assume that the money must have come from affluent Nepalis.
Bankers said that typically the money in Swiss banks is largely kickbacks that are paid to politicians for large deals.
"In case of kickbacks, the commissions associated with multi-million-dollar contracts of government agencies are settled abroad. The commission money does not enter Nepal, but are settled overseas and generally deposited in offshore accounts," said one banker.
The money deposited in Swiss banks is only a small portion of the capital that has gone outside the country illegally.
A United Nations Development Programme (UNDP) report entitled "Illicit Financial Flows from the Least Developed Countries: 1990-2008" has for the first time recorded the extent of capital flight from the country.
The report had said US$ 9.1 billion in capital was siphoned out of the country during the period 1990-2008. On an average, US$ 480.4 million went out of the country annually.
With traditional havens like Switzerland relaxing their secrecy laws, well-heeled Nepalis are increasingly looking towards the Middle East and Southeast Asian countries to park their money. Bankers said Dubai, Thailand, Hong Kong, Brunei and Singapore were the preferred hiding places for Nepalis with zillions.
Nepali laws bar investing abroad or keeping accounts in foreign banks. But that hasn't stopped money from going abroad through illegal channels. Bankers said representatives of leading private banks like HSBC, Credit Suisse, UBS, Duetse, EFG, City and Coutts visit Nepal every year to meet individuals with a high net worth.
"There has been decline in the visits of these representatives of late," said a banker. "It may also indicate that this market (Nepal) may be exhausted."
The UN report stated that trade mis-pricing accounted for the bulk (65-70 percent) of illicit outflows from the LDCs, and the propensity for mis-pricing has increased along with increasing external trade. This holds true for Nepal too. Sources said businessmen associated with dealership of international products generally keep some part of their commissions in foreign banks.
Even when many countries are seriously working to curb the outflow of illicit capital, there has not been serious attempts by the government to control capital flight.
Two weeks ago, the Confederation of Nepalese Industries (CNI), had asked Finance Minister Barsha Man Pun to allow Nepalis to invest abroad legally. Finance Minister Pun said that the government was thinking of letting Nepalis do so.
Four years ago, an attempt was made to initiate a process for Nepali entrepreneurs to invest abroad. The Finance Ministry started work on amending the Ban on Nepali Investment in Foreign Countries Act 1964. The idea then was to allow investment in certain sectors where Nepali companies have competency.
Nepali money in Swiss banks
| Year | Swiss Franc(Million) |
| --- | --- |
| 2002 | 34.356 |
| 2003 | 33.245 |
| 2004 | 30.347 |
| 2005 | 24.759 |
| 2006 | 89.672 |
| 2007 | 108.492 |
| 2008 | 86.221 |
| 2009 | 68.885 |
| 2010 | 97.148 |
| 2011 | 74.662 |
(Source:Swiss National Bank)