Nepal Telecom, Huawei sign pact for 4.8m GSM lines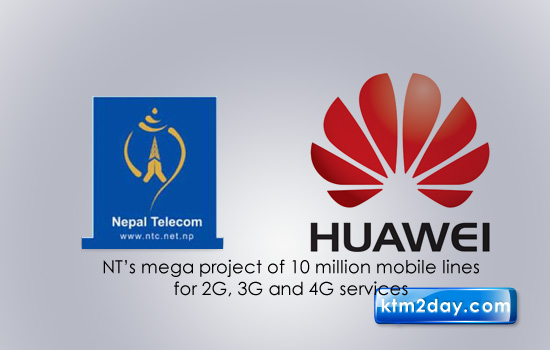 Nepal Telecom's (NT) much-talked about 10 million GSM lines project finally took off on Monday, with NT sealing a deal with Chinese telecom vendor Huawei Technologies for the supply and installation of the system for 4.8 million GSM lines.
As per the agreement, Huawei will supply and install equipment and commission the new lines within the next two years. Huawei won the contract for Rs 6.74 billion, according to NT. The pact is a part of the NT's mega project of the 10 million mobile lines for 2G, 3G and 4G services.
The agreement was signed by NT Managing Director Amar Nath Singh and Huawei Commercial Manager Lian She Cheng and Sales Director Rubhesh Jha.
The project is crucial for NT as it is currently trailing Ncell in the GSM segment. As of mid-April, Ncell has a customer base of 7.69 million, against NT's 5.94 million. Singh said, the signing of the pact 'is a crucial milestone for NT'."This will make us more competitive", said Singh.""It will enable us to provide service on demand".
The 10 million GSM lines project will be executed under two packages—A and B. The pact with Huawei falls under package A. Of the total 4.8 million lines under package A, 50 percent are 2G lines, 45 percent 3G lines and 5 percent 4G LTE (long term evolution). Huawei's project areas are Kathmandu and the Western Region.
As per the agreement, Huawei will install the required equipment within the next 120 days. Huawei has assured NT of completing the assigned job within the stipulated time. According to NT, Huawie will also provide maintenance facility for five years after new lines become operational.
The deal with Huawei, according to NT, will allow it to start services in the next six months and will help in its bid to regain the No 1 position in the GSM segment.""It is the biggest among the projects NT has undertaken so far"" said Surendra Thike, spokesperson for NT."Implementation of this project will allow us to expand services and improve quality".
NT is also holding negotiations with another Chinese company ZTE Corporation for the remaining 5.2 million lines (package B) for rest of Nepal."We will soon sign an agreement with ZTE", said a senior NT official. NT has already issued a Letter of Intent to ZTE.
Earlier, ZTE has expressed reservations on the areas to be covered by Huawei, saying that implementing the project in the areas was easier. It had also asked NT to review terms and conditions of contract.
The state-owned telecom utility will build networks in major cities like Biratnagar, Birgunj, Pokhara and Nepalgunj for 4G services with a priority to data and voice services under package B.
NT had called a global tender for the project in August last year. The project aims to address the demand for 2G, 3G and 4G mobile services for up to 2015. The project was delayed by around five months due to lengthy evaluation work, negotiations and investigation of the Commission for Investigation for Abuse of Authority last year.