Galaxy Grand smartphone to launch in mid-March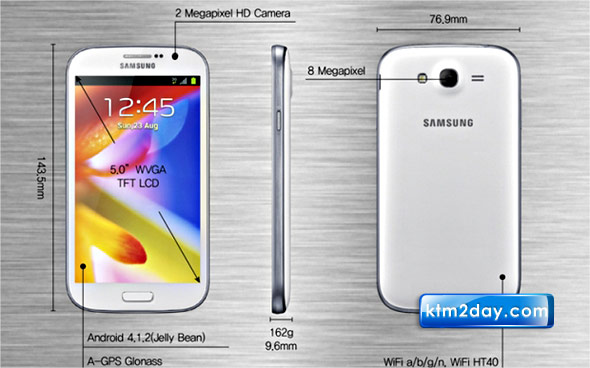 IMS International, the authorised distributor of Samsung mobiles, has planned to launch the new Galaxy Grand smartphone from the global brand in mid-March. IMS chairman Deepak Malhotra said they were releasing the new product to cater to the growing market for smartphones.
According to the company, the dual sim smartphone comes with total communication flexibility. The mobile set is claimed to be one of the world's top performing dual sim smartphones. The two GSM sim card slots are situated on the top left and bottom right of the mobile set.
The slim bodied mobile set is claimed to be equipped with combined features of the Samsung Galaxy S3 and the Galaxy Note II. The new set features Android 4.1 aka Jelly Bean. Similarly, it comes with a 5-inch screen in WVGA, TFT and LCD display. The screen features 480 x 800 pixel resolution which is capable of translating into 187 ppi.
The smartphone is equipped with an 8 mega pixel rear camera and a 2 mega pixel front camera. The rear camera features LED flash. The camera is fitted with a sensor similar to that of the Galaxy S II. According to the company, users can choose camera settings like panorama, face detection, flash, exposure value, scene mode, ISO and white balance, among others, while taking photographs. One can set a timer ranging from 2-10 seconds and grid lines to capture a well-balanced picture, said the company. It also allows recording a full HD video.
The Grand smartphone features a dual core 1.2 GHz processor and 1 GB RAM. Its 8 GB memory can be increased up to 64 GB. According to IMS, the new product features a design language similar to that of the Galaxy S III. The smartphone is equipped with a 2,100 mAh battery.
In addition, the Galaxy Grand comes with connectivity like 3G, 2G, Wi-Fi, Bluetooth 4.0, S Voice and micro USB. The added features in the mobile set include direct call, smart alter, popup video and all hare play. Similarly, it supports multi-app functionality. According to Malhotra, the system allows users to access two applications simultaneously.
The device also introduces premium suite features such as Multi Window, Facebook Lock Ticker, Contextual Menu and Tag, Page Buddy and Sound Balance, among others. According to the company, the Contextual Tag allows users to tag the weather, date and place immediately on the photograph taken on the phone. Depending on the users' actions, Page Buddy helps predict smartly what they intend to do. Similarly, the Facebook Lock Ticker allows quick access to Facebook News even when the screen is locked. The Galaxy Grand smartphone costs Rs 40,500.