CAN InfoTech 2017 to be held from Jan 26-31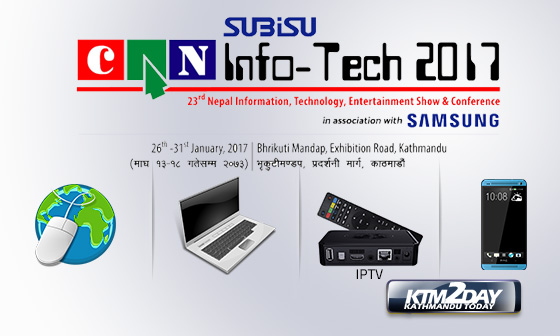 CAN InfoTech, a mega event of Nepal's information and communication technology (ICT) sector, will be held from January 26 this year.
The 23rd edition of the technological exhibition is being hosted by CAN Federation at Bhrikutimandap Exhibition Hall with an objective to promote the ICT industry of Nepal, showcase latest technological developments taking place across the world and increase people's awareness about information and technology.
The six-day exhibition is being sponsored by Samsung.
"The CAN InfoTech has been a flagship programme of CAN Federation and one of the largest annual events in the country in terms of participation of people," said Binod Dhakal, president of CAN Federation, adding the InfoTech has proved to be a milestone event to increase people's awareness on IT and promote the domestic ICT industry.
According to Dhakal, the InfoTech this year is being participated by a majority of IT firms of the country along with a few international IT firms. "Besides promoting the ICT industry by increasing people's awareness on IT, the event also focuses on showcasing global scenario of IT development to Nepali enthusiasts," he added.
According to CAN Federation, domestic and foreign IT firms will showcase their products and services through 222 stalls in the event. Organisers have said that almost all the stalls have been booked by today.
Products and services related to hardware sales and maintenance, power solution, mobile accessories, Internet Service Providers, telecommunication, ICT colleges and training institutes, software solution, payment solution, among others will be displayed in the event.
"Among other issues, the exhibition this year will focus on broadband internet issues and communication technology," iterated Dhakal.
CAN Federation expects to draw over 400,000 visitors this year during the event. While it has fixed an entry fee of Rs 100 for general visitors, charge for students has been set at Rs 50.