Govt signs MoU to connect Kathmandu to India via railway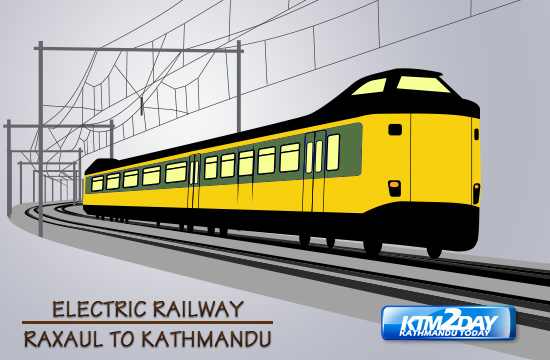 Nepal and India have signed Memorandum of Understanding (MoU) for carrying out a preliminary technical study to build an electrical railway connecting Kathmandu with Raxaul. Secretary of the Ministry of Physical Infrastructure and Transport Madhusudan Adhikari and Indian Ambassador Manjeev Singh Puri signed the MoU in Kathmandu on Friday. Prime Minister Khadga Prasad Oli and his Indian counterpart Narendra Modi witnessed the signing ceremony.
Konkan Railway Corporation Ltd, a company under India's central government, is assigned for carrying out the preliminary engineering and traffic survey of the broad-gauge line. The company will carry out the study within a year, according to the MoU. But the study will not include financial part of the project.
Following this study, a Detailed Project Report (DPR) will be prepared. Based on the DPR, both sides will finalize on the project implementation and funding modalities.
After the Government of Nepal started feasibility study to connect Kathmandu with Rasuwagadhi along the northern border with China, India also offered Nepal the railway project. Accordingly, a joint bilateral statement was signed during Prime Minister Oli's India visit in April in order to connect the Indian boarder city of Raxaul to Nepal's capital Kathmandu. India has also offered to provide financial support for building this infrastructure.
A press statement issued by the Indian Embassy in Kathmandu states: "The Raxaul-Kathmandu rail line is expected to expand connectivity by enhancing people-to-people linkages between the two countries and promoting economic growth and development."
Officials of the Department of the Railway informed that the works towards this project have already been started.
Meanwhile, officials from the Ministry of Physical Infrastructure and Transport had recently visited China to discuss the detailed report on Kathmandu-Kerung railway that passes through a difficult terrain. An estimated Rs 257 billion is required for building the 100-kilometer railway. The project has been estimated to be complete in nine years.