Auto sales fall on higher dollar, excise duty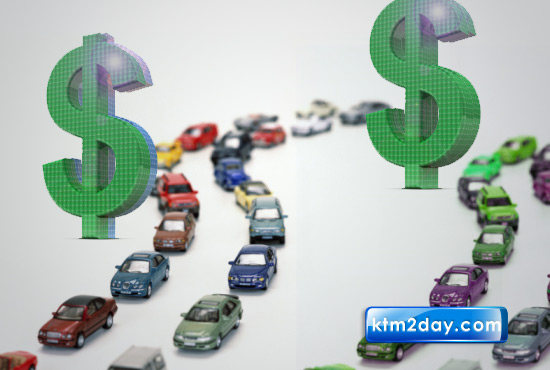 Registrations and sales of motor vehicles have continued to drop in the current fiscal year. The slowdown in the automobile sector has been attributed to a slump in the economy and higher prices resulting from a rising dollar and increased excise duty.
The local automobile market saw a jump in growth during the fiscal year 2009-10 with the number of registrations reaching more than 200,000. In the last fiscal year, the number of registrations stood at 163,640.
As a result of the fall in demand, automobile dealers said that the volume of imports would decline this year. According to the Nepal Automobile Dealers' Association (NADA), monthly sales of bikes and hatchbacks declined 30 percent and high-end vehicles 50 percent compared to two years ago.
The Department of Transport Management said that it registered around 125,000 new vehicles (including around 105,000 bikes) during the first 11 months (mid-July to mid-June) of this fiscal year against 138,547 units (including 116,936 bikes) during the same period last year.
The department said that a drop in auto imports had led to a fall in revenue collection from vehicle tax and registration fee. Vehicle tax is one of the major sources of revenue for the government.
Chandra Man Shrestha, director general of the department, said that they would not be able to meet the collection target for vehicle tax this year. "Imports have gone down this year mainly due to an appreciation of the US dollar and recession in the realty sector," he added.
The department has collected Rs 3.36 billion as of mid-June against its target of Rs 4.37 billion. Officials at the department said that the Ministry of Finance had set an ambitious target without realising the ground reality. Similarly, traders said that the government had envisaged collecting a large amount of revenue from the auto sector by increasing the excise duty as revenues from the housing sector had dropped.
Earlier, an increase in the excise duty and high interest rates on auto loans had been blamed for the decline in the auto market. NADA has cited a rising dollar and yuan as the reason for the current slump. Normally, an estimated 50 percent of the customers turn to bank financing to buy vehicles.
"The interest rate has come down from last year's 18 percent to 12 percent, but banks and financial institutions are hesitant to provide auto loans," said Saurav Jyoti, president of NADA. He added that they had suggested to the government to cut the excise duty and set the import duty on spare parts at 5 percent.
Recently, NADA urged the Ministry of Finance to cut the excise duty on bikes and four-wheelers by 15 percent through the budget for the next fiscal year. Currently, the excise duty on four-wheelers and motorbikes stand at 60 percent and 40 percent respectively.
Vehicle registration in unit
| Year | Bike | Car/Jeep/Van | Crane/Dozer/Trucks | Bus/Minibus |
| --- | --- | --- | --- | --- |
| 2006-07 | 72,568 | 5,156 | 3,278 | 2,370 |
| 2007-08 | 69,666 | 4,741 | 3,594 | 2,598 |
| 2008-09 | 83,334 | 6,857 | 3,643 | 2,436 |
| 2009-10 | 168,707 | 12,268 | 4,524 | 2,668 |
| 2010-11 | 138,907 | 8,510 | 1,969 | 2,980 |