Nepal Tourism Year 2011 promoted in New York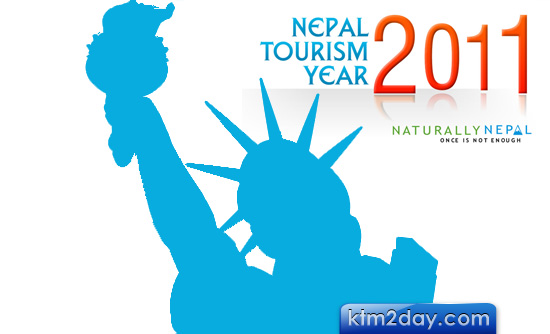 Nepal Tourism Year 2011 (NTY 2011) has been launched in the United States of America. Nepal Tourism Board (NTB) in association with the Permanent Mission of Nepal to the United Nations organised the launching programme of Nepal Tourism Year 2011 in New York, USA, on October 14 at a huge gathering of New York-based media and tour operators, according to NTB.
The keynote speaker at the programme, ambassador of Nepal Permanent Mission to the UN Gyan Chandra Acharya highlighted the tourism attractions in Nepal and urged the tour operators and media to pledge their support in making NTY 2011 campaign a success.
He stressed that the economic prosperity of Nepal will lead to the sustained peace in the country and tourism is the best option in doing so by creating income and employment opportunities for the people.
Similarly, Prachanda Man Shrestha, CEO of the NTB and member secretary of the NTY 2011 main organising committee made a presentation on Nepal Tourism Year 2011 campaign and appraised the guests that Nepal accorded high priority to Nepali tourism and declared Nepal Tourism Year 2011 as national campaign with strong commitment of economic delivery to people in order to stabilise and sustain the historical political achievement.
He also acknowledged the great value of the US visitors to the Nepali travel industry and informed the tour operators and media about the new product offerings during NTY 2011.
Two Everest summiteers — Joe Yannuzzi and Sophie Denis — were also declared 'Honorary Goodwill Ambassadors' during the event in the US for NTY 2011.
On the occasion Kashi Raj Bhandari, director at the NTB — welcoming the guests at the programme — shed light on the objectives of the NTY 2011 campaign that is expected to be instrumental in brining peace, harmony and economic development in the country. More than 80 US tour operators and media, officials of Nepal Permanent Mission to the UN and friends of Nepal in New York city took part in the official launching programme of NTY 2011. Samir Bajracharya, senior officer at NTB and five tourism entrepreneurs who are participating at the Adventure Travel Show in New Jersey, USA were also present on the occasion that was coordinated by the president of PATA Chapter, New York Simmone Bassous.