Kathmandu-Hetauda Tunnel Highway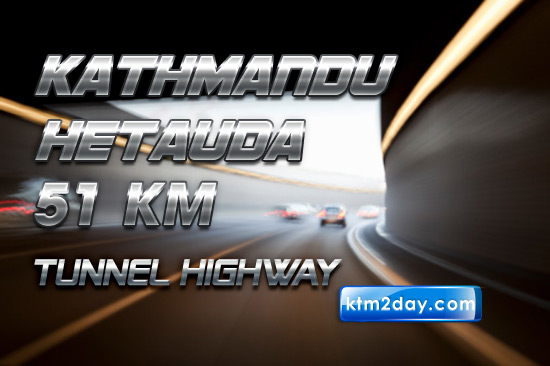 Final agreement within a month: Ministry
The Ministry of Physical Planning, Works and Transport Management has said it will sign the final agreement with the Nepal Purbadhar Bikas Company (NPBC) within a month to develop the Kathmandu-Hetauda Tunnel Highway.
Tulasi Prasad Situala, secretary at the ministry, said before signing the final agreement, the government will have to settle pending issues like how long the company be allowed to operate the road, tax facilities to be provided and the alignment of the road that is said to have overlapped with the proposed Kathmandu-Tarai Fast-Track road.
"We will soon send a proposal with measures to solve these issues to the Cabinet for its approval," said Sitaula.
NPBC, established to undertake the tunnel highway project, had planned to start the construction by mid-February.
But the delay in the signing of the final agreement has delayed the construction.
The ministry had sought more time for the contract signing, citing the lack of investment commitments and overlapping of some of the road alignments with the proposed Fast Track road.
"We have received the commitment for investment and the proposal for changing the alignment to avoid overlapping," said Situala, adding they would study the proposed alignment and forward the proposal to the Cabinet for approval to sign the final agreement within a month.
The company's that it be allowed to operate the tunnel highway for up to 35 years, VAT and tax holiday and the alignment issues have made it necessary to seek the Cabinet's approval, according to the Physical Planning Ministry.
The existing build-operate-transfer (BOT) law allows companies to build and operate such infrastructure and handover the ownership to the government after 30 years.
Kush Kumar Joshi, chairman of NPBC, said they proposed to operate the road for 35 years to make the project more attractive and increase the payback period as the project is the first big infrastructure project being undertaken involving locals. "We find it necessary to have 35 years of operation period as the first four years will go for construction," he said.
After the Physical Planning Ministry asked to show investment sources, the company has submitted a report in which a dozen commercial banks have shown commitments to invest in the 51km highway which is estimated to cost Rs 23 billion.
"So far, around 20 commercial banks have showed interest to invest in the project," said Lal Krishna KC, vice-chairman of the company. "We have also provided options to the government to take the tunnel highway along the Bagmati River eliminating the confusion over the alignment overlapping."
The Federation of Nepalese Chambers of Commerce and Industry, Transport Entrepreneurs' Federation, Hotel Association of Nepal, Federation of Contractors' Association of Nepal, Non-resident Nepalese Association and Nepal Association of Foreign Employment Agencies, among others, have also committed investment in the project.
Moreover, over 50,000 locals from 26 VDCs in Kathmandu, Lalitpur and Makwanpur districts are investing in the project as shareholders.