Nepal Airlines chinese planes grounded due to pilot shortage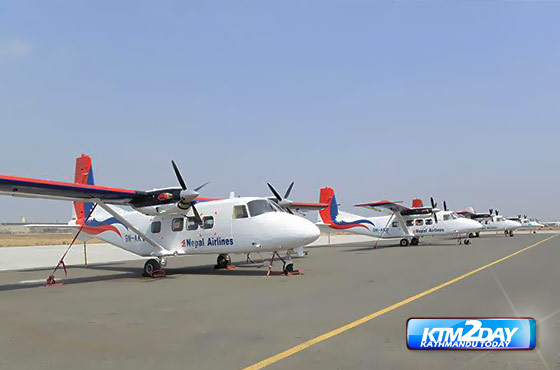 It seems to be standard practice for Nepal Airlines Corporation (NAC) to get the planes first and find the pilots to fly them later. The state-owned carrier has continued the tradition into modern times, so it has a bunch of planes sitting on the tarmac at Tribhuvan International Airport (TIA) while it frantically looks for capable flyers.
NAC is in dire need of captains to fly its two new 17-seater Y12e aircraft that arrived from China on February 13. Sources at the corporation said that finding pilots could take months, even years. So the shiny new planes are likely to remain idle for an indefinite period, they said.
"We have planned to hire three English-speaking captains from China and have already started the process," said Managing Director Sugat Ratna Kansakar of NAC. "We have been in regular contact with the Chinese plane supplier China Aviation Industry Corporation (AVIC)."
As per International Civil Aviation Organisation (Icao) rules, pilots flying international routes must have a minimum level of English to communicate with air traffic controllers regularly.
This level of English proficiency is known as ICAO Operational Level 4. The English language proficiency scale ranges from Levels 1 to 6.
Where will English-speaking pilots come from? Kansakar said that the plane supplier had assured them of providing English-speaking Chinese captains. "There is a shortage of pilots globally, and Nepal is not free from this problem," he said, adding that it was particularly difficult finding pilots who speak English fluently.
According to him, NAC has produced only three captains and an instructor pilot to fly the Y12e aircraft in the last three years. However, out of the four captains, one has resigned; one has taken leave and another one has not updated his flying licence. This means that the national flag carrier has four Y12e aircraft in its fleet, but only one captain to fly them.
NAC owns six Chinese aircraft—two MA60 manufactured by Xi'an Aircraft Industrial Corporation and four Y12e manufactured by Harbin Aircraft.Of these six aircraft, an MA60 and a Y12e are gifts. Pilot shortages are nothing new for NAC.
In 2014, when the first batch of two Y12e arrived in Kathmandu, the planes remained on the ground for more than two months for lack of pilots. The trainer pilots sent by the plane manufacturer could not speak English.The corporation had even appointed New Zealander Peniata Maiava as an instructor pilot for the Chinese aircraft, but he did not last long as he reached retirement age, which is 65 years.
"There are co-pilots at NAC, but they do not wish to upgrade to Y12e captain as almost all of them want to fly Airbus aircraft," said sources at the airline. In 2015, when the corporation obtained two Airbus jets, it incurred a huge loss due to lack of pilots.
The Y-12 or Yunshuji-12 is a twin-engine light multi-role aircraft designed and developed by Harbin Aircraft Manufacturing Corporation of China. It is an advanced model and was certified by the FAA on August 2, 2006.
The aircraft is powered by PT6A-135A engines. It received Type Certification from the Civil Aviation Administration of China in 2002. The aircraft made its first flight in August 2001, and the Y-12e currently flies in more than 15 countries.