Kami Rita Sherpa creates new record by climbing Everest 26th time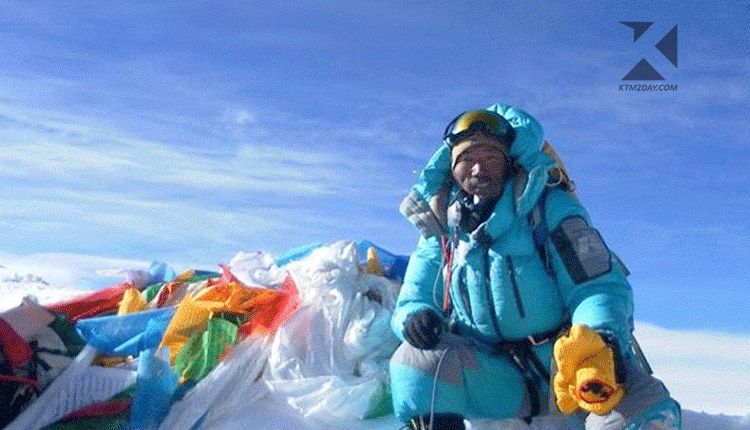 Kami Rita Sherpa has set a record by ascending Mt. Everest for the 26th time.
On Saturday evening, a team of eleven Nepalese high-altitude climbing guides reached the summit of Mount Everest, marking the first spring ascent of the world's tallest peak this year.
The team that accompanied him made it to the top of Mt. Everest by clearing a path and attaching a rope to the mountain.
Kami Rita, born in 1970 in Thame, Solukhumbu, holds the record for most climbs since 2018. He beat Appa Sherpa's record by ascending Mt. Everest for the 22nd time on May 16, 2018.
At that time, Sherpa declared that his job was to ascend Mt. Everest and that he would create another record if his health permits.
At 18:55 [local time], Kami Rita, the leader of the rope fixing team, and ten other climbing sherpas reached the summit.
For the first time, on May 13, 1994, Kami Rita had conquered Mount Everest. Mingma Sherpa, a fellow Sherpa and Managing Director at Seven Summits, claims that he holds the record for "most climbs over 8000m."
During the period 1994 to 2022, Kami Rita has climbed Everest 26 times , K2 once, Lhotse once, Manaslu 3 times, and Cho Oyu 8 times with a total of 38 times.
316 people have been granted licences by the Department of Tourism thus far this spring.
The government awarded a record 408 licences for Everest in the midst of the Covid-19 pandemic last spring.
Permits to climb Everest cost $11,000 for non-local climbers. It's estimated that to climb Mount Everest will cost somewhere in the neighbourhood of $40,000-$90,000 considering other expenses.