Tourist arrivals by air increased by 26.1 percent in July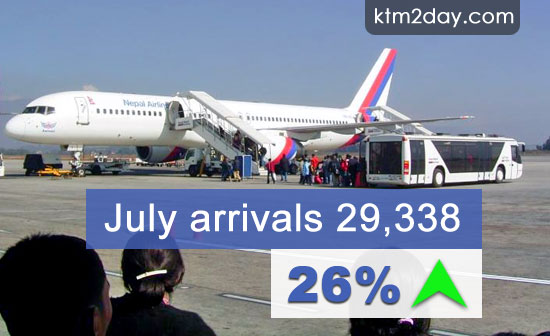 Tourist arrivals by air increased by 26.1 percent to 29,338 in July compared to the same month last year.
The figures released by the Immigration Office, Tribhuvan International Airport (TIA), reveal that arrivals from the South Asian region grew 31.3 percent with Bangladesh posting a rise of 88.9 percent, India 26.5 percent, Pakistan 10.3 percent and Sri Lanka 48.7 percent.
The increase in visitor arrivals from India showed sustained growth this year, except for a slight slump in April. Arrivals from India dipped 2.6 percent in April compared to the same period last year.
Visitor arrivals from other parts of Asia have also recorded a double-digit growth of 19.9 percent. China, another major source market, recorded a jump of 104.2 percent. Arrivals from Japan were up 10.7 percent, Malaysia 98.9 percent and Singapore 24.7 percent. However, arrivals from South Korea and Thailand have registered negative growths of 2.1 percent and 45 percent respectively.
Regarding long-haul markets, Europe registered an overall positive growth of 24.6 percent with the major source markets showing a positive trend.
Arrivals from Austria, Belgium, Denmark, France, Germany, Italy, the Netherlands, Russia, Switzer-land, Spain, Sweden and the UK were up 8.5 percent, 13.8 percent, 56.7 percent, 29.9 percent, 94.8 percent, 57.8 percent, 32.4 percent, 67.9 percent, 42.7 percent, 22.8 percent, 52.5 percent and 3.8 percent respectively.
Likewise, arrivals from Canada and the US also registered growths of 24.9 percent and 12.8 percent respectively. Australia showed a marginal increase in arrival figures of 0.9 percent while New Zealand posted a negative growth of 31.1 percent.
Meanwhile, arrivals by land until June 2010 totalled 60,877, up 6.2 percent compared to the same period last year. March remained the strongest of the first six months of 2010 with 18,620 arrivals, ahead of February (15,823) and January (7,492).
The Bhairahawa border point posted a rise of 10 percent with 42,190 tourists coming in followed by Kodari and Kakkarbhitta with 13,630 and 3,376 arrivals respectively in the first six months of 2010.
Aggregate visitor arrivals rose by 15 percent to 257,196 for the period between January-June 2010 (by both air and land) compared to the same period last year.
Foreign tourist departures from TIA in July reached 31,103. The number of Nepali arrivals stood at 50,309 while departures amounted to 64,972.
Tourist arrivals by air
| Month | Arrivals (2009) | Arrivals (2010) | Change (%) |
| --- | --- | --- | --- |
| Jan | 21,944 | 26,071 | 18.8 |
| Feb | 25,181 | 33,492 | 33 |
| Mar | 33,005 | 44,431 | 34.61 |
| Apr | 37,819 | 38, 694 | 2.31 |
| May | 25,129 | 26,634 | 5.98 |
| June | 23,222 | 26,997 | 16.3 |
| July | 23,266 | 29,338 | 26.09 |
| Total | 189,566 | 225,657 | 19.03 |
(Source: Nepal Tourism Board)