Mobile Expo 2010 kicks off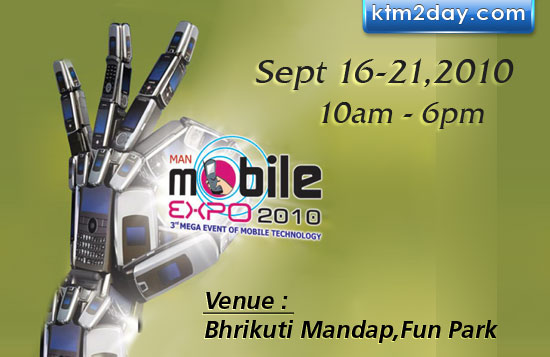 The Mobile Association of Nepal (MAN) is set to organize the third Mobile Expo 2010 at Bhrikuti Mandap from Sept. 16-21.
It expects to oversee business transactions worth Rs. 100 to 120 million over the six days of the fair. The event will feature 65 stalls and participation of 22 mobile companies — Indian and other multinational brands. It expects to attract 150,000 to 300,000 visitors.
Last year, about 150,000 people visited the expo that ran for four days, said MAN president Ambika Prasad Dhakal.
Dhakal added that the mobile handset market had been growing by 50-75 percent over the last couple of years with telecom service providers expanding their services far and wide.
Major attractions at the event are extravagant schemes and offers from the participating companies. They include a free SIM card from NTC on the purchase of its 3G handset and multimedia sets for Rs. 2,200 each from Bird mobile.
"There will also be an exhibit of GPS tracking systems ideal for checking the increasing incidents of bike theft. Micro laptops for Rs. 6,200 each will be another attraction," he said.
There are 377 mobile retailers associated with MAN, and the number is ever increasing with the entry of new mobile brands almost every week or so — especially Indian.
"I think the time is ripe to bring about some sort of regulation to ensure the safety standards of mobile sets to check untoward incidents like explosion of handsets," he added. "Governments play an active role in such regulations in most countries around the world, but ours remains unconcerned."