Buddha Air partners with VRock to bring 2.5 million tourists to Pokhara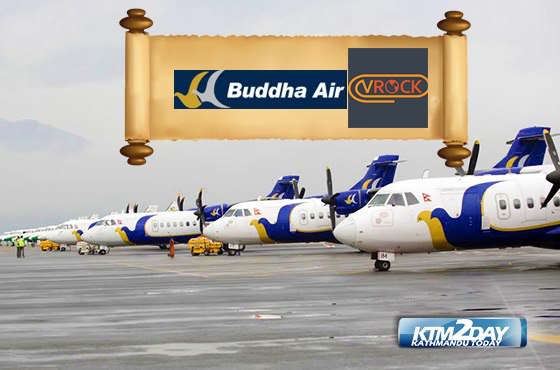 As part of its Corporate Social Responsibility (CSR), Buddha Air Pvt. Ltd has partnered with VRock & Company Pvt. Ltd for an initiative to support the goal of annually bringing 2.5 million tourists to Pokhara International Airport after its forecast completion on June 10, 2021.
An agreement was signed on December 21, 2017 between VRock's Chairman, Radhesh Pant and Buddha Air's Managing Director, Birendra Bahadur Basnet.
VRock & Company focuses on consultation and advisory work in the field of infrastructural development, financial services, strategy management and leadership. As an airline operator in service since 1997, Buddha Air believes that corporate houses have a responsibility to introduce creative innovations to uplift society.
Buddha Air's CSR will support VRock & Company to initiate research, consultation with stakeholders and prepare a master plan for the realizing the development potentials that will arise as a result of Pokhara International Airport. The project will start on January 1, 2018 for an initial period of nine months.
Currently, around 300,000 tourists visit Pokhara and Annapurna Conservation Area Project (ACAP) annually. Preliminary research shows that Pokhara International Airport has the potential to bring 2.5 million tourists to Pokhara, ACAP and the peripheries of Province 4.
This potential rise in tourists would entail sustainable employment for 10 million Nepalis. To accomplish the induced economic potential from Pokhara International Airport will require vertical integration (forward and backward integration) from different sectors and businesses.
Tourist sites will be developed while protecting the environment and ecology of key sites in Province 4. These sites will be developed with the involvement of the local people.